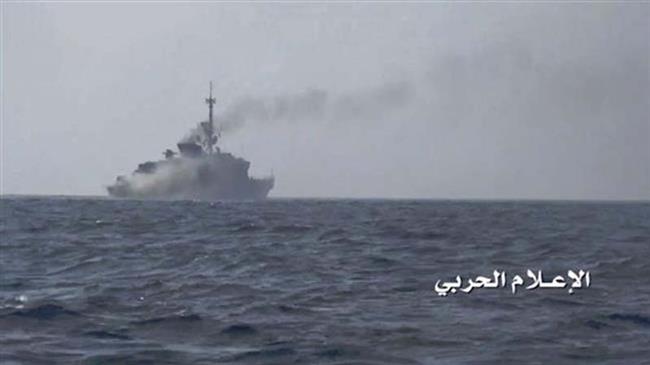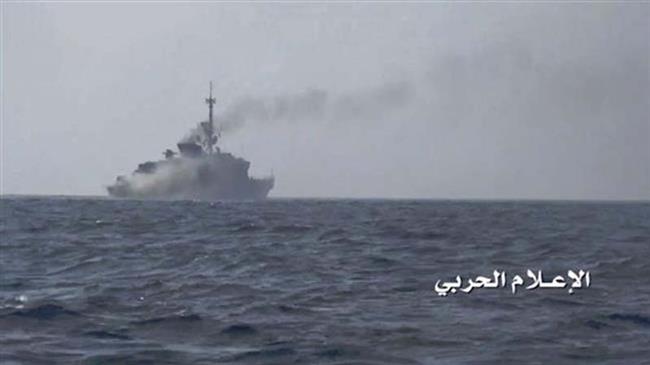 Yemeni naval forces, backed by fighters from Popular Committees, have reportedly targeted a military vessel in a missile attack off the coast of the kingdom's southwestern border region of Jizan, in response to the Riyadh regime's atrocious military campaign against their war-ravaged homeland.
A military source, speaking on condition of anonymity, told Arabic-language al-Masirah television network that the frigate was targeted with a guided missile on Saturday afternoon.
The source added that the wounded sailors had been transported to local hospitals to receive medical treatment.
Colonel Aziz Rashed, deputy military spokesman for the Yemeni army, said the attack was in retaliation for a recent Saudi airstrike against Yemeni fishermen off the coast of the strategic western province of Hudaydah, which killed five people. Fourteen other Yemeni fishermen remain unaccounted for.
On July 25, Yemeni naval forces and their allies targeted and destroyed a Saudi military vessel in a missile attack off the coast of Hudaydah.
An unnamed military source said French-built Dammam frigate was targeted with a guided missile.
Back on August 12, 2017, Yemeni forces targeted a Saudi frigate with a guided missile in waters near the port city of Mukha, situated 346 kilometers south of the capital Sana'a.
On July 29 that year, 12 Emirati troopers lost their lives and another 23 sustained injuries when their frigate was targeted with a guided missile off the coast of Mukha.
An unnamed military source told Yemen's official SABA news agency that the vessel was heavily loaded with various munitions, and the missile attack caused a series of explosions that lasted until 8:30 p.m. local time (1730 GMT), before water-dropping planes could extinguish the flames.
'UN responsible for economic collapse in Yemen'
Meanwhile, the chairman of the Supreme Revolutionary Committee of Yemen, Mohammed Ali al-Houthi, has criticized new UN Special Envoy for Yemen Martin Griffiths for failing to honor his commitments to ease the Arab country's economic crisis.
"Griffiths has not fulfilled his promise to address the economic woes that have increased since his appointment. The American envoy had said that his priorities are to alleviate the economic crisis in Yemen," Houthi wrote on his official Twitter page on Saturday.
He then called for the return of state revenues to the Yemeni Central Bank in Sana'a to ensure the disbursement of salaries among civil servants.
Houthi further noted that Saudi Arabia and its regional allies were counterfeiting the Yemeni Riyal, causing devaluation of the country's currency.
Saudi Arabia and a number of its regional allies launched a devastating military campaign against Yemen in March 2015, with the aim of bringing the government of former president Abd Rabbuh Mansur Hadi back to power and crushing the country's Houthi Ansarullah movement.
Some 15,000 Yemenis have been killed and thousands more injured since the onset of the Saudi-led aggression.
More than 2,200 others have died of cholera, and the crisis has triggered what the UN has described as the world's worst humanitarian disaster.