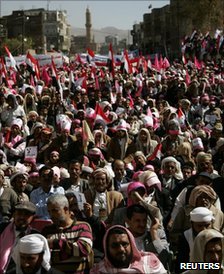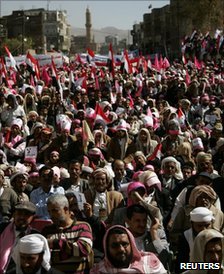 Yemeni opposition has set a two-week deadline for President Ali Abdullah Saleh to leave, rejecting an offer to join Saudi-mediated talks.
"We have renewed our emphasis on the need for speeding the process of (Saleh) standing down to within two weeks. Therefore, we will not go to Riyadh," prominent opposition leader Mohammed al-Mutawakkil was quoted as saying by Reuters on Thursday.
Persian Gulf Arab states offered a proposal, which urges Saleh to step down and transfer power to the president's deputy, although protesters and the opposition are demanding Saleh's immediate exit.
The opposition on Monday rejected the Arab mediation proposal on grounds that it offers Saleh protection from future prosecution.
A statement from Saleh's office said on Monday he has no reservations about transferring power peacefully within the framework of the constitution.
A transfer of power could technically last until the next presidential election scheduled for 2013.
The Yemeni president, who has been in power since 1978, has offered new parliamentary and presidential elections this year as part of political reforms, but insists to hold on to power in order to oversee the change or hand over authority to what he calls "safe hands."