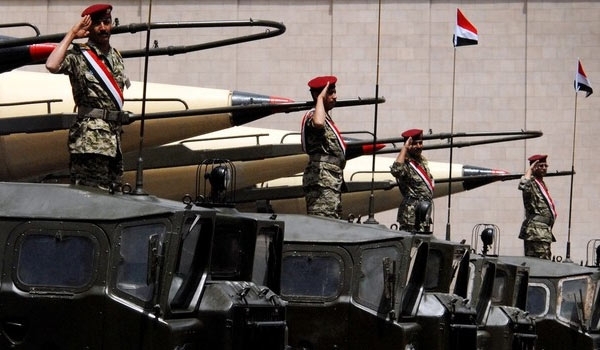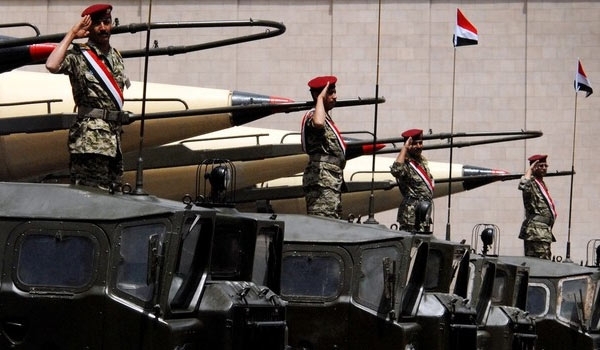 The Yemeni army launched missile attacks on a strategic military base in Riyadh on Tuesday in retaliation for Saudi Arabia's continued airstrikes on Yemen.
The Yemeni forces hit the Al-Salsabil military base in Wadi Al-Dawasir district of Riyadh with Scud missiles today.
Yemeni Army Spokesman Brigadier General Sharaf Luqman said in a statement that the missile has hit its target precisely.
"The Yemen scud missile attack came in reaction to the Saudi aggression and airstrikes against Yemen," Luqman said.
"Despite our warnings by targeting Khalid bin Abdul-Aziz airbase in Khamis Musheet as a message to the Saudi-led aggressors to stop attacks and injustice against the Yemeni people, the Saudi regime is continuing its airstrikes," Luqman said.
On Monday, the Yemeni army and Ansarullah fighters launched missile attacks on the Saudi military bases in Dhahran in Assir province.
Local sources informed that the Yemeni forces have also attacked several Saudi military bases in Jizan.
Saudi warplanes repeatedly pounded residential areas in the Northern Yemeni province of Sa'ada on Sunday, killing and injuring large groups of people.
According to local sources, the kingdom's military planes hit Razeh district in Sa'ada province with more than 15 rockets targeting and destroying civilian buildings early on Sunday, leaving scores of people dead and injured.
There has yet been no report on the number of casualties or extent of the damage to properties, but local security officials said that scores of people had been killed or injured in the attacks.
Elsewhere, three civilians sustained serious injures after the Saudi airstrikes bombed Hajjah province.
Saudi Arabia has been bombing Yemen in the last 97 days to bring its ally, fugitive president Mansour Hadi, back to power.
The airstrikes have so far claimed the lives of more than 4,777 civilians, mostly women and children.
According to a recent report by Freedom House Foundation, most of the victims of the deadly Al Saud campaign are civilians, including a large number of women and children.