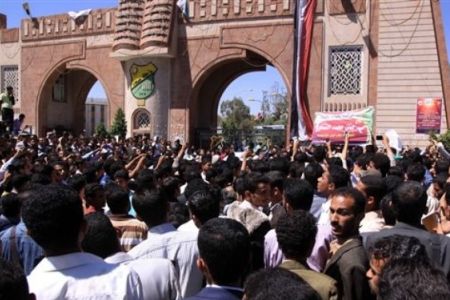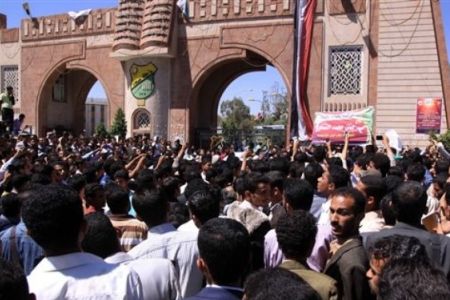 Students in the Yemeni city of Hudaydah have once again called for the immediate departure of President Ali Abdallah Saleh amid anti-government rallies across the country.
The anti-regime demonstration at Hudaydah University came just two days after Yemeni security forces attacked a similar protest rally on campus, which left at least 35 protesters injured.
Witnesses say Yemeni troops used live bullets, teargas and batons to confront anti-regime demonstrators. Many students were also arrested and they were transferred to unknown locations.
Students of Hudaydah University held the presidency of the university responsible for these violent attacks. But there were no reports of clashes between protesters and security forces at the university on Monday.
Since late January, hundreds of thousands of anti-government protesters have been staging anti-Saleh protest rallies across the country on a daily basis.
According to local reports, at least 300 protesters have been killed and many others injured during clashes with riot police and armed forces loyal to the embattled Yemeni president.
On Sunday, the [Persian] Gulf Cooperation Council ([P]GCC) suspended its effort to mediate in Yemen's political turmoil after President Saleh again refused to sign a deal to step down.
According to state TV, President Saleh said he would only sign the deal in the presence of opposition leaders in a ceremony at his palace. Opposition leaders had signed the agreement on Saturday.
Under the deal offered by the [P]GCC, Saleh would hand power over to his vice president and resign within 30 days in exchange for immunity from prosecution.
A national unity government led by a prime minister from the opposition would then be formed, and a presidential election would be held 60 days after Saleh's departure.