Saudi Arabia
Yemen
Yemeni tribes reject Saudi compensation, seek revenge for Jawf bloodshed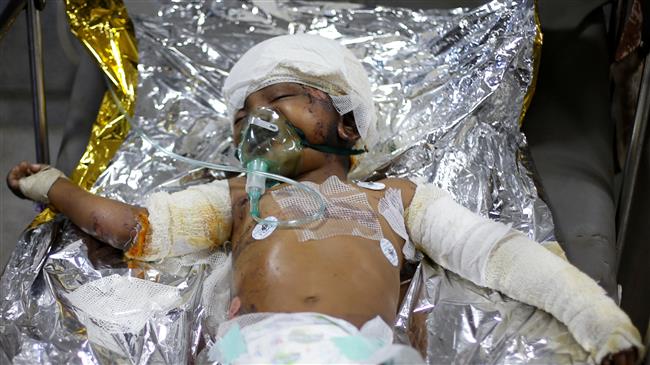 Yemeni tribes in the northern province of al-Jawf have rejected a financial offer from Saudi Arabia to compensate for Wednesday airstrikes that claimed over two dozen civilian lives, saying the only thing that would calm them down is revenge.
In yet another act of aggression on the impoverished country, Saudi airstrikes targeted a residential area in the al-Hazm district of al-Jawf Province, leaving 25 people dead, including women and children, and several others injured.
The casualties took place at a wedding ceremony that belonged to the Yemeni tribe of Bani Nouf in the al-Hazm district.
Saudi warplanes had earlier in the day launched five airstrikes against the al-Aqsha' area in the same district, with local media reports falling short of providing the exact number of possible casualties.
The Arabic-language al-Khabar al-Yemeni news website reported on Thursday that the elders of the al-Jawf tribes, in their meetings and contacts with the Bani Nuf tribe, had thrown their support behind tribal revenge for the recent casualties, underlining that an attack on Bani Nouf tribe would be an attack on all the tribes in al-Jawf.
The news website said Saudi Arabia had dispatched a number of representatives to the tribes in al-Jawf to pay reparations and appease them but they had refused to accept the financial compensation.
Martin Griffiths, the United Nations special envoy for Yemen, called on Thursday for a transparent investigation into airstrikes by Saudi Arabia and its allies in al-Jawf and described the attacks on Yemeni civilians as reprehensible.
Since March 2015, Saudi Arabia has been conducting a bloody military aggression in Yemen with help from its regional allies, and using arms supplied by its Western backers. The aim of the war has been to bring Yemen's former president, Abd Rabbuh Mansur Hadi, back to power and defeat the Houthi Ansarullah movement.
The ongoing war has killed tens of thousands of Yemenis and pushed the entire country close to the brink of famine. The brutal military intervention has also taken a heavy toll on the country's infrastructure, destroying hospitals, schools, and factories.
The COVID-19 pandemic is also raging unchecked in the war-torn country.