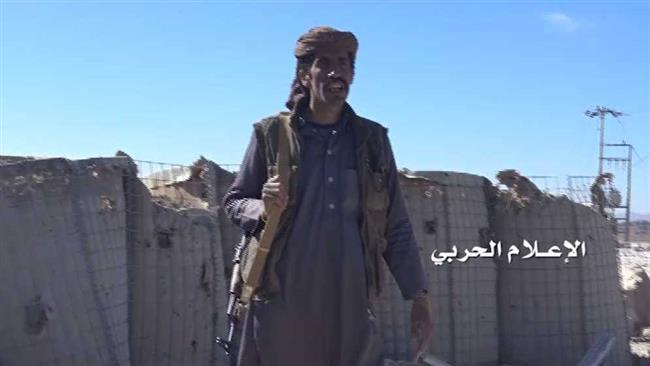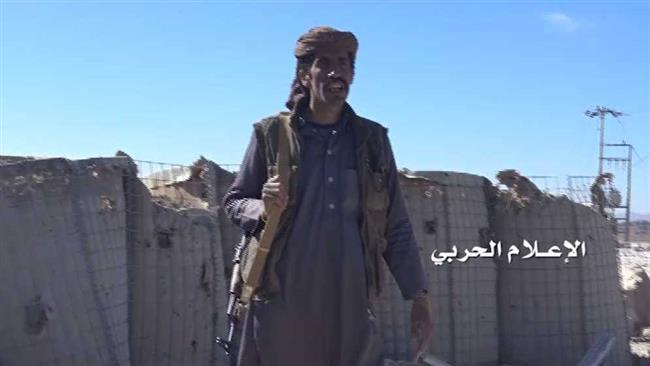 Yemeni army soldiers, backed by fighters from Popular Committees, have taken full control of a military base in Saudi Arabia's southwestern region of Asir in retaliation for the Saudi regime's atrocious aerial bombardment campaign against Yemen.
The media bureau of the operations command in Yemen released footage on Friday afternoon showing Yemeni troopers and allied forces inspecting the hulks of damaged military vehicles at al-Nimsa base after several Saudi soldiers were killed during heavy fighting and the rest ran away.
A Yemeni fighter then shows untouched tactical vests, ammunition belts for a portable machine gun, hand grenades and rocket-propelled grenades that Saudi military forces had left behind in the wake of the Yemeni forces' advance.
The bodies of a number of Saudi troopers could be seen scattered around as the video concludes with Yemeni soldiers and allied fighters chanting "Death to America and Israel."
Yemeni artillery units also lobbed a barrage of rockets at al-Dhab'ah and al-Ash bases in Saudi Arabia's southwestern border region of Najran, leaving scores of soldiers injured.
Additionally, an unnamed Yemeni military source told Arabic-language al-Masirah television network that tens of Saudi-backed militiamen loyal to resigned president Abd Rabbuh Mansur Hadi had been killed and wounded after Yemeni soldiers and Popular Committees thwarted their offensive against the Khabb wa ash Sha'af district of the country's northern province of al-Jawf.
Yemeni forces also fired a BM-27 Uragan rocket at a gathering of Saudi mercenaries in the mountainous Jebel Salab region of the west-central province of Ma'rib; however, no immediate reports of casualties were available.
Also on Friday evening, Yemeni forces and their allies hit pro-Saudi gunmen in the Dhubab district of the southern Ta'izz Province, leaving scores of militants injured.
Separately, three civilians lost their lives and two others sustained injuries when Saudi fighter jets bombarded an area in the Bayt al-Faqih district of the coastal western province of Hudaydah.
Saudi Arabia has been engaged in a deadly campaign against Yemen since March 2015 in an attempt to bring back the former Yemeni government to power and undermine the Houthi Ansarullah movement.
The impoverished Arab country is grappling with the scarcity of food supplies and outbreak of diseases amid Saudi Arabia's atrocious airstrikes.
The United Nations International Children's Fund (UNICEF) says 7.4 million Yemeni children are in dire need of medical help, and 370,000 run the risk of severe acute malnutrition.