Middle East
Saudi Arabia
Yemen
Yemenis honor victims of zionist Saudi war
Yemenis are attending an exhibition in commemoration of those who lost their lives as a result of the Saudi-led coalition's war on their country.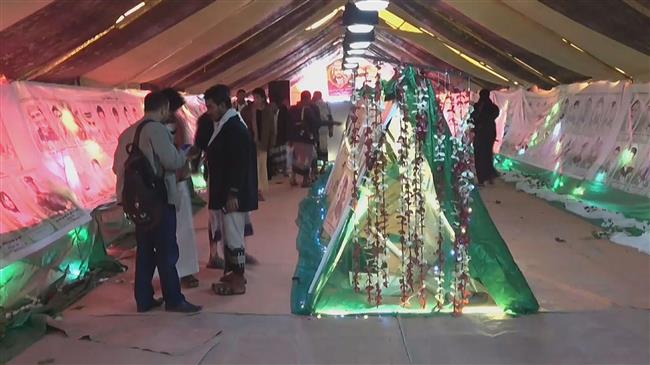 The event showcases martyrs' paintings, pictures and heroic stories about their efforts to stand against the war. In a televised speech, Leader of the Houthi Ansarullah movement, Abdul-Malik Badreddin al-Houthi, called for unity among resistance groups in the face of the aggression. He also slammed Washington and Riyadh for the crimes they have committed in Yemen.
Saudi Arabia and a number of its regional allies launched a devastating military campaign against Yemen in March 2015, with the goal of bringing the government of former president Abd Rabbuh Mansur Hadi back to power and crushing the Houthi Ansarullah movement.
The war has killed thousands of people, most of them civilians. It has also taken a heavy toll on the country's infrastructure, destroying hospitals, schools, and factories.
The United Nations says over 24 million Yemenis are in dire need of humanitarian aid, including 10 million suffering from extreme levels of hunger.
Yemenis say they will never forget the sacrifices made by those who stood up to the foreign aggression and defended their country to their last breath.