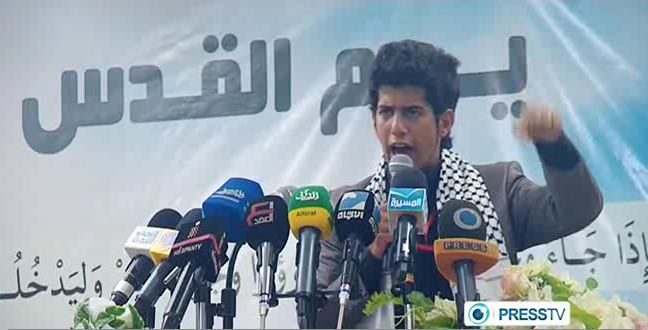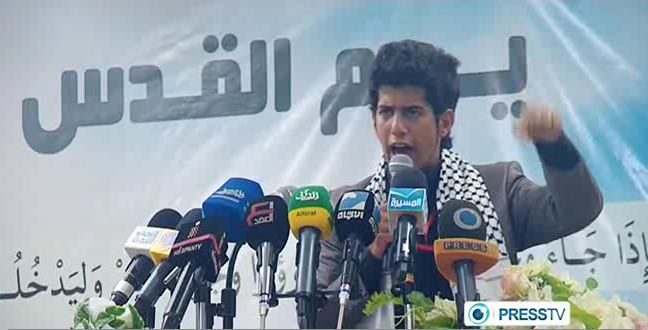 Anti-US and Israeli slogans rang high at the International Al-Quds day conference in Sanaa, which highlighted the imperative obligation of solving the years of Zionist occupation over Palestinian land.
The conference stressed that Zionist media, with the help of its allies have downplayed the Palestinian cause by instigating conflict among Muslim nations, with hopes of diverting them from coming up with a genuine solution for Palestine.
In a recorded video, the Houthi religious leader Abdul-Malik al Houthi reminded supporters on what International Al-Quds-day means.
The conference also conducted a live play which demonstrated how the Israeli entity managed to keep Muslim Nations in a declined state; pushing forward the Israeli agenda.
People who attended the conference said that International Al-Quds day will spark the liberation of Palestine. One of the attendants told Press TV that the Islamic Awakening will eventually lead to the uproot of the Zionist entity.
The international Al-Quds Day is an annual event which takes place on the last Friday of the holy month of Ramadan to commemorate the continuous Zionist occupation of Palestinian lands, which began in 1948, and continues untill this day.
At the International ALQuds Day conference here in Sana'a, the speakers have concluded by calling on Muslims to end all ties with the US; stressing that supporting the US would be supporting the Zionist occupation of Palestine.