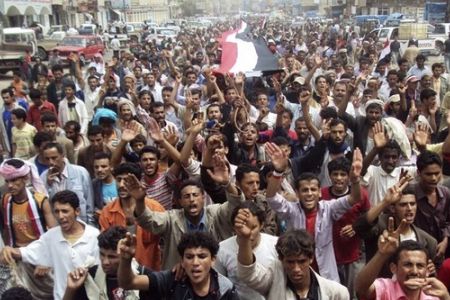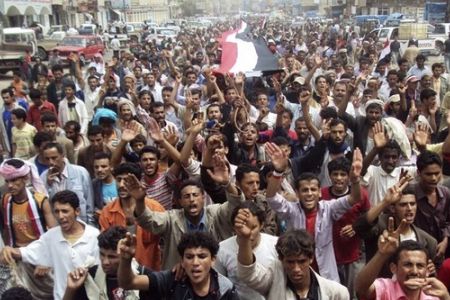 Anti-government protesters have taken to the streets in southwestern Yemen to press on with their demands and call for an end to foreign interference in their country.
The protesters, carrying banners with anti-US slogans, took to the streets of the Yemeni city of Dhamar on Tuesday, calling the United States "Yemen's enemy", a Press TV correspondent reports.
The demonstrators also condemned Saudi Arabia along with the United States for attempting to smother the revolution.
Similar rallies have been held in other cities across Yemen since early June.
In a separate development, the Yemeni government forces shelled the capital city, Sana'a, and a number of villages in the southwestern province of Taiz on Monday.
The government forces also targeted the protest hub of Liberation Square in Sana'a.
In a popular revolution that began in late January, hundreds of thousands of Yemenis have been taking part in regular mass demonstrations in the nation's major cities. Major demands called by protesters include an end to rampant government corruption and unemployment and ouster of the country's Ali Abudullah Saleh.
Saleh is currently in Saudi Arabia, where he is receiving treatment for injuries he received in a June 3 attack on the presidential palace.
Forces loyal to Saleh often resort to brutal violence to disperse peaceful Yemeni protesters.
There are fears that persisting clashes between anti-government demonstrators and forces loyal to Saleh could eventually spiral out of control and trigger a large-scale chaos in the country.
Hundreds of protesters have been killed and many more injured since January as a result of the brutal crackdowns on anti-government protests by military forces and bands of thugs loyal to Saleh's dictatorship.
Meanwhile, the White House issued a statement on Sunday, calling on Saleh to "fulfill expeditiously his pledge to sign" an agreement brokered by the [Persian] Gulf Cooperation Council ([P]GCC), which would lead to a transition ending his 33 years in office and grant him immunity from prosecution.
This comes as Yemeni demonstrators urge Saleh to return to the country to stand trial for the killing of people during the regime's crackdown on the protests.