Yemen
Yemenis rally against Saudi aggression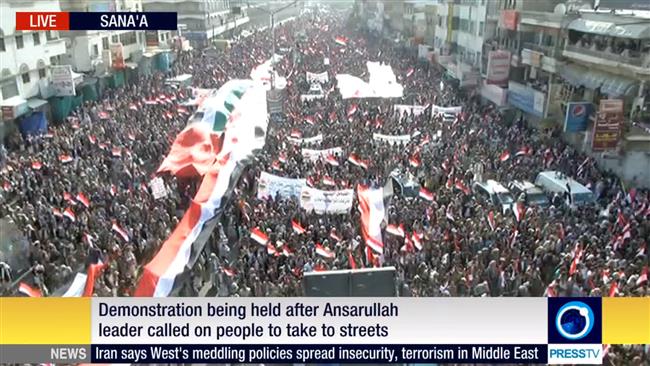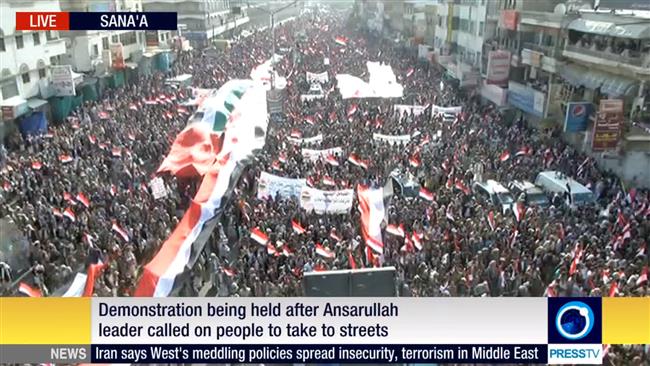 Yemenis take to the streets in the capital, Sana'a, to slam the relentless and deadly Saudi aggression against their country.
On Monday, thousands of people staged a demonstration in Sana'a at the invitation of the leader of Yemen's Ansarullah movement, Abdel Malek al-Houthi.
The massive rally was held to mark the first anniversary of the Yemenis' revolution against the corrupt administration of the country's fugitive former president, Abd Rabbuh Mansour Hadi.
The rally came a day after the Houthi leader urged Yemenis to attend the demonstration to "prove to the world that the people stand by the leadership of the revolution."
The revolution of the Yemeni nation will continue "until the country enjoys independence and stability" and "the people benefit from its wealth," he said.
Houthi also voiced support for diplomatic efforts to solve the deadly conflict in the impoverished Arab country as long as they "do not harm the national sovereignty, legitimize the [Saudi] aggression and deny the Yemeni people their rights."
Last summer, the Ansarullah activists, who played a major role in the ouster of the country's longtime dictator, Ali Abdullah Saleh, staged demonstrations in Sana'a for nearly two months, demanding the departure of Hadi's government over corruption and marginalization of the country's Shia community.
In September 2014, Ansarullah revolutionary fighters gained control of Sana'a following a four-day battle with army forces loyal to General Ali Mohsen al-Ahmar, the half-brother of the former dictator.
Civilian deaths rising
Report also said the Saudi aerial assaults on Monday claimed the lives of 25 civilians in Sana'a, 30 in the southwestern province of Hajjah, and dozens more in the central province of Ibb.
On March 26, Saudi Arabia began its aggression against Yemen – without a UN mandate – in a bid to undermine the Houthi Ansarullah movement and restore power to Hadi, a staunch ally of Riyadh.
According to reports, 6,091 Yemenis have so far lost their lives in the Saudi airstrikes and a total of 13,552 people have been injured.
Retaliatory attacks against Saudis
Meanwhile, reports said that the Yemeni army, backed by popular committees, launched attacks against Saudi positions in the kingdom's southwestern province of Jizan in retaliation for Riyadh's unabated military campaign against the Yemeni nation. According to reports, the Yemeni forces managed to bring three villages under control in Jizan.