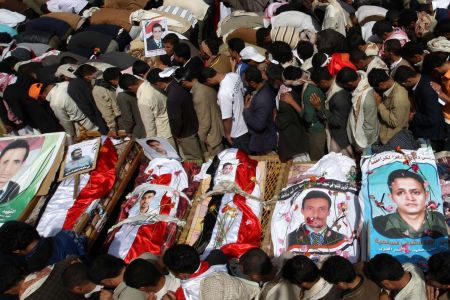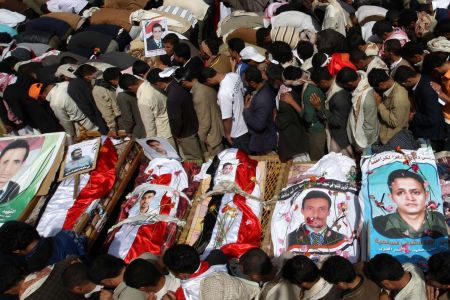 Tens of thousands of Yemenis gather in the capital to mourn the "martyrdom" of tens of people during a ferocious crackdown on recent anti-government protests.
On Sunday, the crowd swarmed the square near the Sana'a University, commemorating the 30 people, who died along with 22 others on Friday in an attack by the military's snipers, AFP reported.
"These people must be held responsible for every drop of blood that has been shed," said Ali Abed Rabbo al-Qadi, the head of the independent parliamentary bloc, who had joined the mourners.
The gathering defied a state of emergency enforced by the government of President Ali Abdullah Saleh.
The protests have been raging on since January, calling for an end to the 32-year-long rule of Saleh.
Since the beginning of the popular revolution, scores of people have been killed and hundreds more wounded during the armed attacks by the loyalists to the Saleh regime.
The opposition has accused Saleh of committing crimes against humanity and the government-sanctioned violence has prompted condemnation from the United Nations.
The country's influential Muslim clergymen have released a statement, calling on the Army and the security forces "to not carry out any order from anyone to kill and repress" the demonstrators.
Despite the countrywide rallies, the head of state has said he would remain in power until the end of his term in 2013.
His tribe and several senior religious leaders have joined the protesters' camp, calling for his removal.
Prominent members of the president's ruling General People Congress party, including the human rights minister and the country's ambassadors to Lebanon and the UN, have resigned in protest at the deadly attacks.