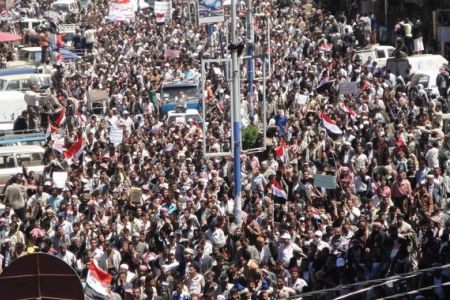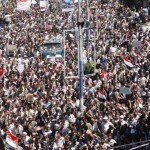 Anti-government protesters in Yemen continue to call for the downfall of President Ali Abdullah Saleh as the Persian Gulf Arab states continue efforts to broker an end to months of bloodshed in the country.
Thousands of anti-Saleh demonstrators staged rallies, dubbed Silent Protest, across the country on Wednesday to demand an immediate end to President Saleh's 32-year rule.
Protesters say Saleh has no choice but to leave after the government's deadly crackdown on demonstrations. They hold Saleh responsible for the killing of hundreds of protesters during opposition rallies which began in late January and demand his prosecution.
According to local reports, since the beginning of anti-Saleh demonstrations across Yemen, at least 300 protesters have been killed and many others injured during clashes with riot police and armed forces loyal to the isolated Yemeni president.
Female protesters also took to the streets to call for Saleh's departure, saying they were determined that Saleh must leave and if the men could not do it, the women would drag him from his palace by themselves.
The fresh protests come as chief of the Persian Gulf Cooperation Council Abdullatif al-Zayani is expected to visit Yemen to persuade Saleh to agree on a unity government after the embattled Yemeni president failed to sign a deal brokered by Persian Gulf Arab states, which offered him total immunity from prosecution in return for stepping down within 30 days.
Meanwhile, clashes between Yemeni security forces and armed men in the southern city of Zinjibar, capital of Abyan province, left four policemen, a soldier and two civilians dead.
A medical official in the city said at least 14 civilians were also wounded in the exchange of fire.