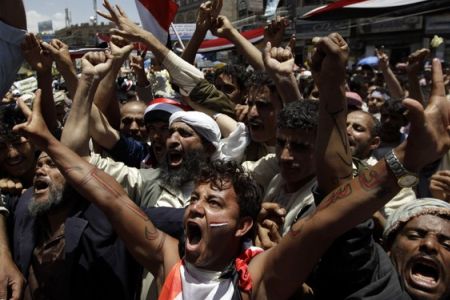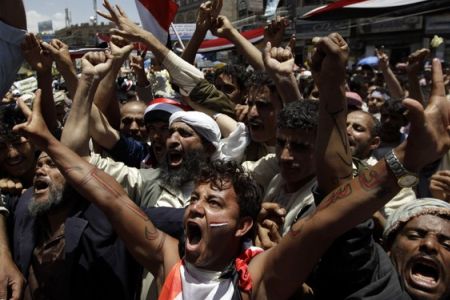 Tens of thousands of Yemeni protesters demanding democratic reforms spilled out into the streets of the capital and insisted President Ali Abdullah Saleh step down after 32 years in power.
The anti-regime protesters gathered in the capital Sana'a, Baida and other cities on Thursday to call for an immediate end to Saleh's decades-long rule.
Saleh gave mixed signals on Wednesday on his readiness to leave, and said he would stand firm against "conspiracies and coups."
A new Arab plan has given Saleh the option to resign with a guarantee that he would not be prosecuted as demanded by the people. The proposal calls for a three-month transition plan that would end in presidential elections.
Abdel Latif al-Zayani, secretary general of the [Persian] Gulf Cooperation Council, met the embattled president on Tuesday. No other details of the talks were released, except that Saleh has been requested to transfer power to his vice-president within a 30-day period after a national unity government is formed.
As negotiations drag on, the potential for escalating violence increases. Saleh has warned of chaos and possibly a civil war if he is forced out of office.
Meanwhile, local media have reported the arrest of 12 ministers and nearly 200 deputies and officers.
The arrests came after Saleh ordered the seizure of what he called suspicious persons on duty, after several ministers resigned on Friday over the government's deadly crackdown on protesters.
Reports say the 12 ministers were later released.