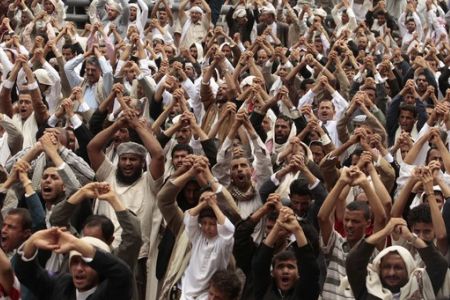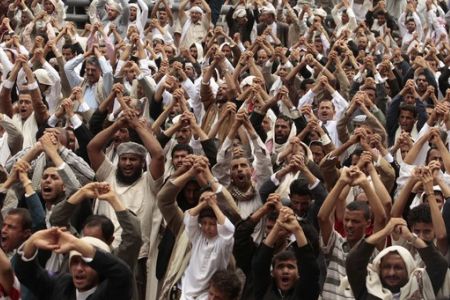 Yemeni protesters have once again taken to the streets across the country to press their demands for long time ruler Ali Abdullah Saleh to relinquish power.
Anti-government protesters, who poured into the streets following the Friday Prayers, called for the immediate formation of a transitional ruling council to prevent Saleh from returning to power.
Demonstrators also called for the prosecution of Saleh, who is now in Saudi Arabia for medical treatment following an attack on his palace, and his regime officials over the killing of hundreds of anti-government protesters since opposition rallies began in the country in late January.
The opposition has dubbed this Friday the "Friday of Revolutionary Will."
Protesters also denounced the interference of Saudi Arabia and the US in their country's internal affairs. On Thursday, anti-government demonstrators burned the US flag during a rally in the capital, Sana'a.
Since the wounded president left the country on June 6, anti-Saleh protesters have been holding daily demonstrations across the country, demanding a transitional council to prevent him from returning to power.
According to the opposition, the transitional council would "appoint a nationalist and compatible figure to form a government of technocrats."
The opposition has also called for the dissolution of parliament and the country's consultative council, and the formation of a committee to draw up a new constitution and set dates for holding a referendum on the constitution and for elections.
However, Yemeni Vice President Abdu Rabo Mansour Hadi, who heads the caretaker government in Saleh's absence, has so far resisted intensive local and international pressure to heed the demands of protesters to assume power and set up an interim ruling council, insisting that Saleh is still the president and will return to Yemen soon.
Meanwhile, Western diplomats said on Thursday that the blast that injured Saleh was caused by explosives planted inside his palace, suggesting that the attack was an assassination attempt and probably an "inside job."
The unnamed diplomats also said that many unexploded bombs were found at the palace.
A Yemeni security official confirmed that some bombs did not go off.
Yemeni officials had earlier said that Saleh was injured after anti-government protesters fired mortars or rockets at his compound.
He is believed to be suffering from shrapnel wounds, burns to over 40 percent of his body, broken bones, internal bleeding and smoke inhalation.