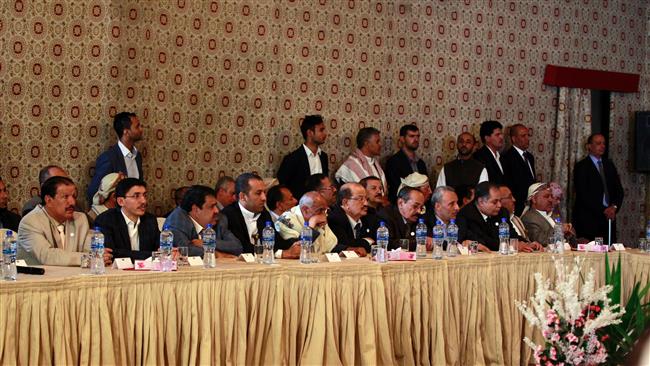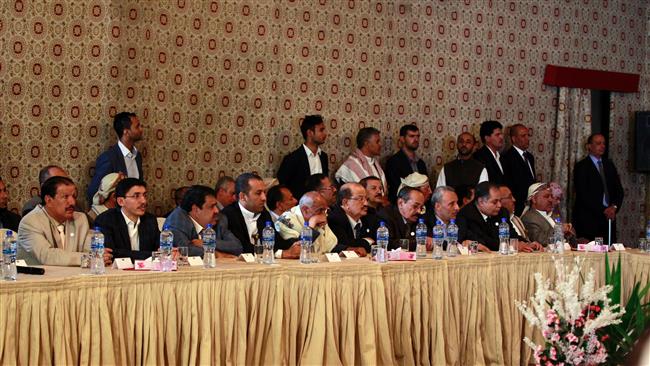 Yemen's Supreme Political Council says it is ready to restart peace talks if the regime in Riyadh stops attacking the impoverished Arab country.
During its weekly meeting at the Yemeni presidential palace in the capital Sana'a on Sunday, the council said its willingness to restart the peace talks depended on Saudi Arabia's "total cessation of the aggression and lifting of the unjust siege on the Yemeni people."
Yemen's Houthi Ansarullah movement and the General People's Congress (GPC) party of the former president, Ali Abdullah Saleh, form the council, which is tasked with handling the country.
The conflict in Yemen re-escalated after the peace talks, mediated by the United Nations and held in Kuwait, collapsed earlier this month.
Ansarullah earlier rejected an initiative put forth by US Secretary of State John Kerry to resolve the crisis in Yemen.
Mohammed Abdulsalam, the Ansarullah spokesman, said Saturday that the offer aims at depriving the Houthis of their arms in their fight of resistance against the Saudi invasion.
Kerry earlier called on Houthis to hand over their weapons including ballistic missiles and to pull back from Sana'a and cease shelling across the border with Saudi Arabia. In return, the US secretary of state said Houthis and allies can have a share in Yemen's future unity government.
During talks in the Saudi port city of Jeddah this week, Kerry said the conflict in Yemen had gone on too long and needed to end.
Meanwhile, supporters of Abd Rabbuh Mansur Hadi, Yemen's president who has resigned and fled the capital, said in a statement they were prepared to consider the ideas outlined by Kerry.
The Saudi-backed camp said it "is prepared to deal positively with any peaceful solutions… including an initial welcoming of the ideas resulting from the meeting in Jeddah that included the foreign secretaries of the US, the United Kingdom and [Persian] Gulf states."
The proposal by Kerry came after Houthis stepped up missile attacks on border regions in Saudi Arabia over the past few weeks. The attacks are carried out in reaction to deadly Saudi airstrikes that the regime in Riyadh says are meant to undermine Houthis and allies and to restore power to Hadi.
Houthis had declared since the start of the talks in April that they were ready for disarmament and withdrawal from key areas they control in case a broad political agreement is reached in which Hadi would have no role.