Iran
Young Students in Tehran protest US-made anti-Islam movie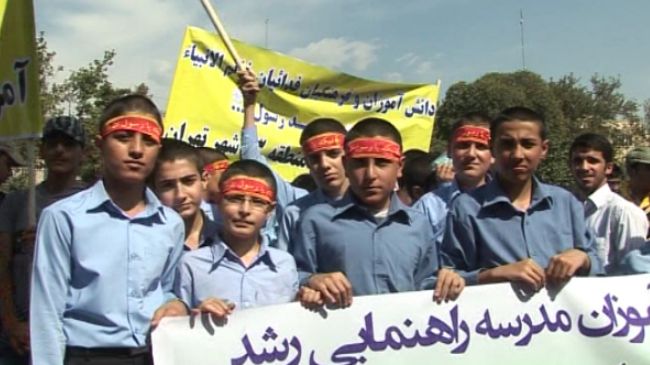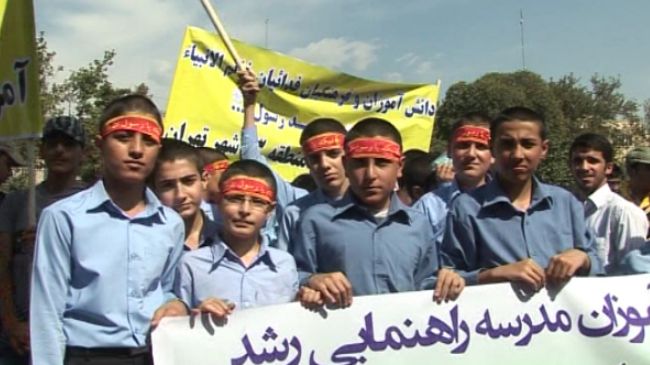 Hundreds of students in the Iranian capital, Tehran, have condemned the US-made sacrilegious movie that insults Prophet of Islam Mohammad (PBUH), Press TV reports.
The students took to the streets on Friday to denounce the anti-Islam film.
They chanted slogans against the US and Israel and carried placards in condemnation of the recent insults to Islamic sanctities.
"Hundreds of students from across Tehran have come here to condemn the blasphemous movie insulting Islam's Prophet (PBUH)," Reza Amani, an official of Iran's Ministry of Education told Press TV's correspondent.
"I have come here to show the world that even young students are offended by the movie," one of the students said.
"Such acts only unite Muslims throughout the world. I have come here to condemn the blasphemous movie that insults our Prophet (PBHU)," another student said.
Protests have been held in Muslim countries against an American movie that insult Prophet Mohammad (PBUH).
The American-made anti-Islam movie is said to have been made with the help of the Zionist donations totaling USD 5 million.
The sacrilegious movie was followed by the publication of cartoons mocking the Prophet of Islam (PBUH) in the satirical French weekly Charlie Hebdo on September 19.