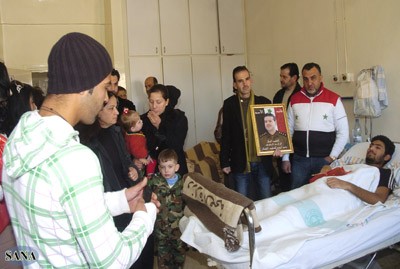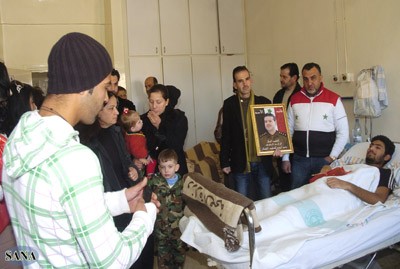 In recognition of their sacrifices for restoring security and stability to Syria, a youth group visited the wounded Syrian Arab Army personnel at the National Hospital in Sweida and gave them roses and gifts.
Organizer of the event, Sleimah al-Shaer, told SANA reporter that this visit comes under the title "we are all Syrians," expressing appreciation for the sacrifices of the Syrian Arab Army in confronting armed terrorist groups who are tampering with the security and stability of the homeland.
Rima Mattar, wife of the martyr Basem Ajwad al-Khateeb ,expressed her pride in participating in the visit of the wounded soldiers who protect the homeland .
Other members of the youth group indicated their support for the brave soldiers of the Syrian Arab Army.
Similarly , another youth group in Lattakia visited the checkpoints of the Syrian Arab Army and gave gifts to soldiers .
Head of the group, Ahmed Hatem, told SANA reporter that this visit expresses support for the efforts of the Armed Forces and their sacrifices to protect the homeland.
For his part , Amer fawzi, said that the youth group is carrying out volunteer work for Syria to reduce the pain of the affected families from terrorism.
"The volunteer work is continuing within the resources of the youth group and we are convinced that Syria will win soon because of the efforts of brave soldiers," Zeinab Kostek said.