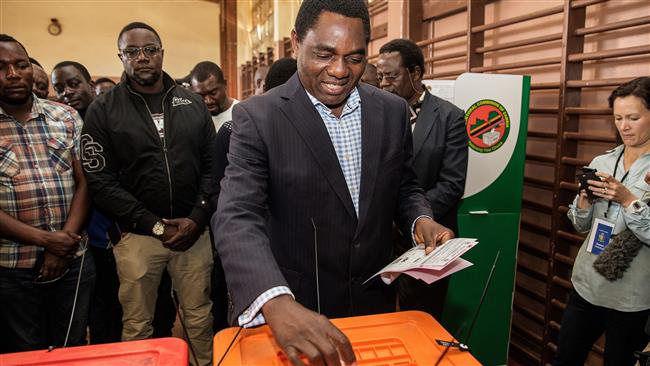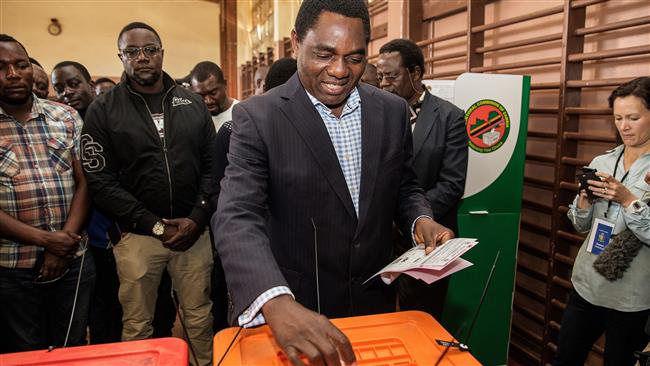 Zambia's opposition leader Hakainde Hichilema has taken an early lead over President Edgar Lungu in a closely-contested election in the copper-producing but economically-challenged African nation.
The Electoral Commission of Zambia (ECZ) postponed the announcement of initial poll results on Friday, stating that audits were taking longer than expected due largely to a huge voter turnout, Reuters reported.
The ECZ further rejected charges by Hichilema's United Party for National Development (UPND) that it had deliberately delayed announcing the early results in a bid to manipulate the outcome in favor of Lungu's Patriotic Front (PF).
According to the report, data from eight of Zambia's 156 constituencies showed businessman Hichilema in the lead with 47,706 votes versus 41,572 ballots cast for lawyer Lungu following Thursday's polls.
This is while the campaigning for the presidential poll focused on the economy, after months of climbing unemployment, mine closures, power shortages as well as surging food prices in Africa's second largest copper producer.
While Hichilema insists the president has mismanaged the economy, Lungu blames the weak growth on plummeting commodity prices.
Voter turnout in this year's election stood at 57.55 percent, far above the 32-percent recorded early last year when Lungu narrowly defeated his opponent in an election to fill the vacancy left by the death of then president Michael Sata.
If no candidate receives more than 50 percent of the votes this time, the country will have to hold a second round poll.
Meanwhile, ECZ said final results from the elections, in which Zambians also pick parliament members, mayors, local councilors, and whether or not to accept proposed amendments to the constitution, would not be in by late Saturday or early Sunday as initially anticipated.