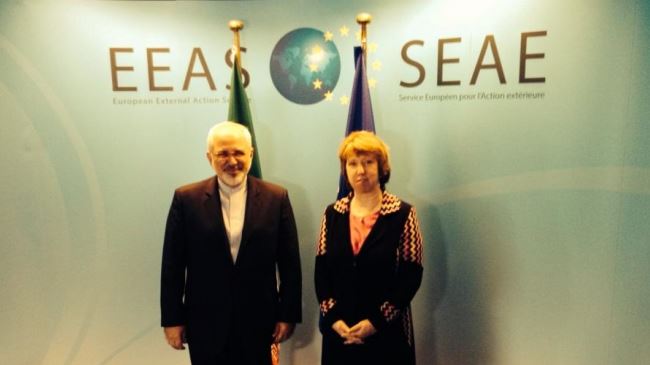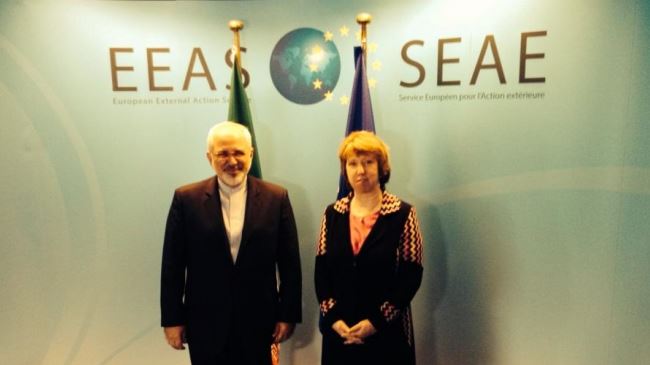 Iran's Foreign Minister Mohammad Javad Zarif and chief negotiator of the Sextet of world powers Catherine Ashton have met in Brussels to discuss the process of Tehran-P5+1 nuclear talks.
The meeting was held after the arrival of Zarif in the Belgian capital Monday morning.
The two discussed how to proceed with the Iran-P5+1 talks with a view to reaching a comprehensive agreement. Zarif and Ashton are set to continue their talks where they will discuss the exact schedule of the next round of negotiations between Iran and the P5+1 in New York.
The Iranian minister also met President of the European Council Herman Van Rompuy in Brussels to discuss Iran-EU mutual interests, Tehran's nuclear energy program and countering terrorism and extremism across the Middle East.
"Today we held talks with the EU and Belgium officials. Our first meeting was about general issues and overall interests of Iran and the EU, the nuclear issue as well as terrorism and extremism in the [Middle East] region," Zarif said following the meeting.
Zarif is accompanied in his trip by Iranian Deputy Foreign Minister for Legal and International Affairs Seyyed Abbas Araqchi and Deputy Foreign Minister for European and American Affairs Majid Takht-e-Ravanchi.
The Iranian foreign minister will next head to Italy and Luxemburg. Zarif plans to meet with incoming EU foreign policy chief Federica Mogherini, who will replace Ashton.
Iran and the Sextet of powers – the US, France, Britain, Russia, China and Germany – signed a historic interim deal in the Swiss city of Geneva in November 2013. The agreement entered into force on January 20 and expired six months later. In July, Iran and the six countries agreed to extend their negotiations until November 24 in a bid to work out a final accord.