Human Rights
Iran
Middle East
Zarif: Don't forget 'worst atrocity in Europe since WWII'
Iran's Foreign Minister Mohammad Javad Zarif says the worst mass killing of Muslims in Bosnia more than two decades ago "mustn't be forgotten".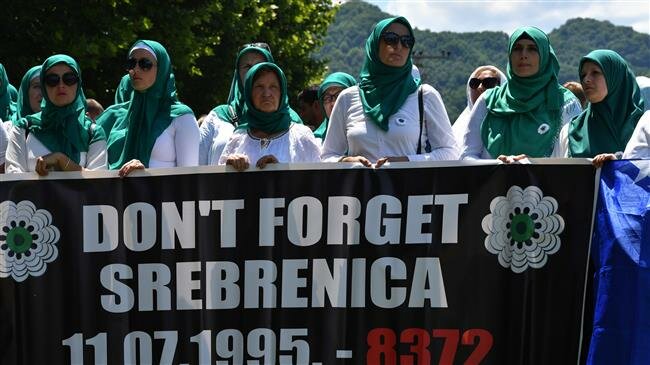 He made the comments on the 24th anniversary of the killing of thousands of Muslims in southeastern Europe.
As thousands of Bosnians gathered to commemorate the anniversary Thursday, the Iranian minister took to Twitter, describing the massacre of more than 8,000 Bosnian Muslims as "the worst atrocity on the continent since WWII."
"In this age of increasingly normalized anti-Muslim bigotry, such horrors MUST'NT be forgotten—not by Muslims, and not by Europeans," Zarif said.
More than 8,000 Bosnian Muslim men and boys were killed by Bosnian Serb troops on July 11-22,1995.
Some 30,000 Bosniak civilians were also displaced in and around the town of Srebrenica in Bosnia and Herzegovina by units of the Army of the Republika Srpska under the command of General Ratko Mladic.
On Thursday, relatives of the victims, along with thousands of mourners, attended the ceremony at a memorial site in the Bosnia city of Potocari, near Srebrenica where the massacre occurred.
The memorial ceremony also included the burial of 33 newly-identified victims of the killings. More than 1,000 are still considered missing from the massacre.
The mass killings were branded genocide by international courts and both Bosnian Serb wartime leader Radovan Karadzic and military commander Ratko Mladic were sentenced by a UN war crimes court to life in prison.
EU admits 'genocide'
To mark the anniversary, European Union foreign policy chief Federica Mogherini and EU enlargement commissioner Johannes Hahn issued a joint statement, calling the killings as "genocide."
In the statement, they described the mass killing as "one of the darkest moments of humanity in modern European history."
"There is no place for inflammatory rhetoric, for denial, revisionism or the glorification of war criminals," said the statement.
"Attempts to rewrite history in Bosnia and Herzegovina or anywhere are unacceptable," it added.