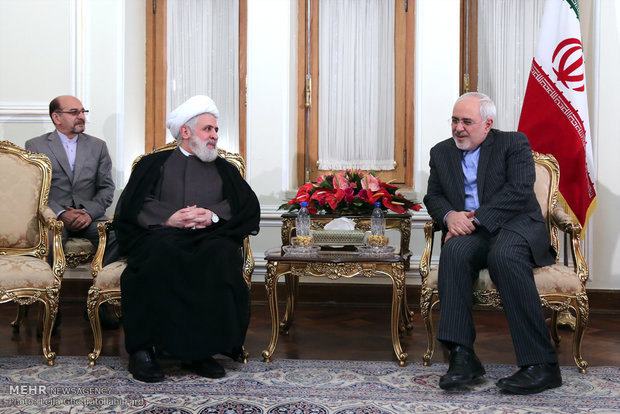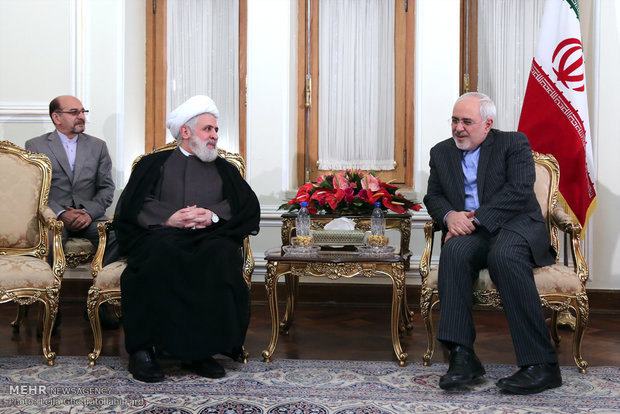 Iran's Javad Zarif has received Lebanese Hezbollah deputy-secretary Sheikh Naim Qassem, discussed regional developments.
Sheikh Naim Qassem arrived in Tehran on Sunday to visit Iranian officials. Mr. Zarif and Hizbollah official talked about the latest developments in the region, especially the situation on the ground in the battle against Takfirist terrorist in Syria.
Zarif, noting the Islamic Resistance and Hezbollah position in regional development, underlined that Lebanese Hezbollah approaches are along with maintaining authority and unity among Lebanese nation and in direction of the nation's benefit.
Discussing the latest development in Lebanon and Syria and the Hezbollah approaches in confronting Zionist regime conspiracies, Sheikh Naeim Qassem said "we have always appreciated Iran's strategies, which have always been in direction of Lebanese interests and benefits and bravery resistance against conspiracies of the Zionist regime."
He added that Iran by taking wise approaches and by its sharp sights is considering all events in international and regional arena.
Naim Qassem will reportedly participate in Islamic Unity Conference underway in Tehran.