Iran
Zarif stresses deal should recognize Iran rights, dignity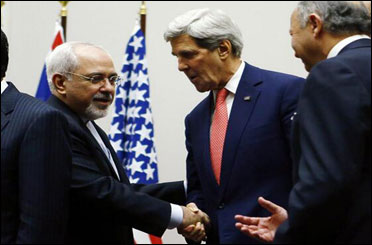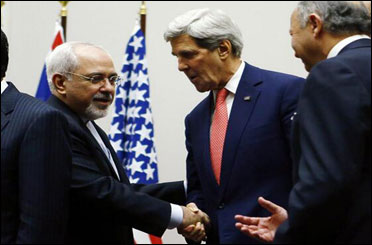 Iranian FM and US Secretary of State met on the sidelines of 45th World Economic Forum in Davos.
On the sidelines of World Economic Forum in Davos, Iran's Foreign Minister Mohammad Javad Zarif met US Secretary of State John Kerry to hold talks on Iran's nuclear program.
Zarif stated in the meeting that Iranian and European sides would hold talks in Zurich to reach a deal on Iran's nuclear issue expressing hope to expedite negotiations to avoid any potential effort leading to a collapse in N-talks.
Warning that more sanctions by the US Congress would kill the negotiating process, Zarif said "we pursue an acceptable deal which recognizes Iranian rights and dignity."
Zarif reiterated that Iran is not seeking nuclear weapons, adding that "we can prove our nuclear program will not lead to the production of weapons."
Today, Zarif reportedly will leave Davos for Riyadh to attend the funeral ceremony of Suadi King Abdullah who died at the age of 90 earlier on Thursday evening after being hospitalized since December 31, 2014 suffering respiratory problems due to pneumonia.