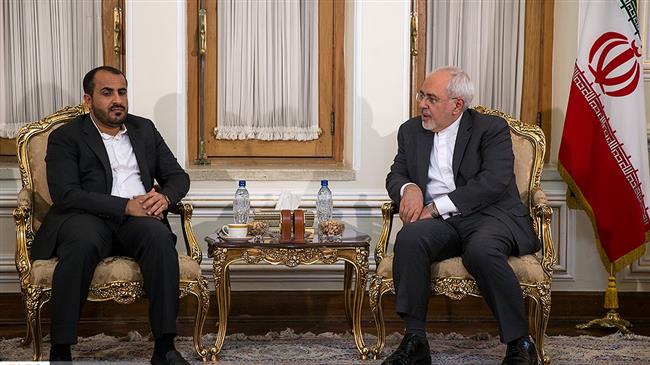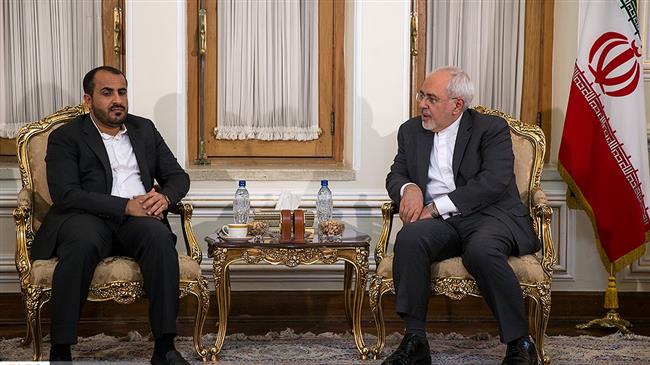 Iranian Foreign Minister Mohammad Javad Zarif has called for an immediate halt to the Saudi-led military campaign against Yemen, urging the delivery of humanitarian aid to the war-torn country.  
During a Saturday meeting with Yemeni Houthi Ansarullah movement's spokesman, Mohammad Abdulsalam, Zarif pointed to Iran's four-step solution to solve the crisis in Yemen and underlined the need for an urgent end to the bombardment and siege of the country.
The top Iranian diplomat, earlier this week, outlined Iran's four-step solution for the Yemeni conflict, namely an immediate ceasefire, humanitarian aid, intra-Yemeni talks and an inclusive government, warning that such foreign-backed fighting was tearing the country apart.
During the Saturday meeting, Zarif further urged the international community to dispatch humanitarian aid to the impoverished nation as soon as possible.
For his part, Abdulsalam briefed Zarif on the latest developments and the humanitarian situation in Yemen.
Saudi Arabia has been leading a deadly campaign against Yemen from the air, land, and sea since March 2015 in an attempt to reinstate former president Abd Rabbuh Mansur Hadi, a staunch ally of Riyadh, and to undermine the Houthi Ansarullah movement. Since nearly three years ago, the Houthis have been running state affairs and defending Yemeni people against the Saudi aggression.
The UN has described the situation in Yemen as the "world's worst humanitarian crisis."
The offensive has, however, achieved neither of its goals despite the spending of billions of petrodollars and the joining of Saudi Arabia's regional and Western allies in the war.
The war, which has so far killed at least 13,600 people, has also taken a heavy toll on the country's infrastructure, destroying many schools and factories.