World News
Zelaya rejects conditional reinstatement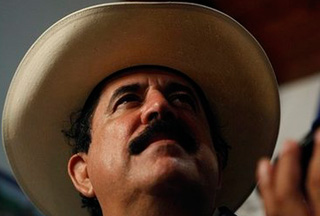 Ousted Honduran president Manuel Zelaya says he will oppose any deal that would link his reinstatement to recognition of the upcoming presidential poll.
Zelaya also denounced Washington for changing its stance and supporting the electoral process in Honduras.
"They have left us in the middle of the river, saying now that their priority is the elections and not the restoration of democracy," Zelaya told Costa Rica's ADN Radio on Friday.
"This is the truth of what has happened," added the constitutional head of state, who remains holed up at the Brazilian Embassy in Tegucigalpa.
The US diplomat Thomas Shannon, until recently the acting assistant secretary of state for the Americas, has reportedly said in a comment that the White House would recognize the winner of the Nov. 29 election regardless of whether Zelaya was reinstated to serve the remaining roughly two months of his term.
Critics maintain that the de facto regime of Roberto Micheletti was emboldened by the comments.
The US said this week that it would endorse a "democratic government" in the Central American republic not any one person.
"It's not about any one person. It's about a return of democratic processes and democratic government in Honduras. It's an important aspect to us of continuing to support democracy within the hemisphere," said the State Department spokesman, P.J. Crowley.
Meanwhile, Zelaya, who was removed from power by his own army in a June 28 coup, said Saturday that he would refuse to return to power if it is going to give legitimacy to the coup.
"From this date onward, I reaffirm my decision not to accept any agreement to return to the presidency (that would) cover up this coup," Zelaya said in a letter written to US President Barack Obama, reported Reuters.