Africa
World News
Zimbabwean FM: Liberation of the Southern Africa was contributed by NAM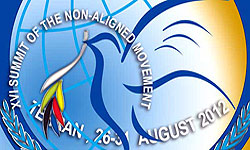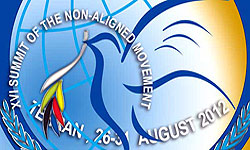 XVI Non Aligned Movement (NAM) summit is on its last leg. Tehran has been hosting prominent political figures from around the world to discuss the issues of the countries which are not aligned to any power.
Zimbabwean Foreign Minister, Simbarashe Mumbengegwi, in an exclusive interview with Taqrib News Agency (TNA) explained how the Non Aligned Movement has supported African countries.
Foreign Minister of Zimbabwe was asked if the Non Aligned Movement has been successful in confrontation with apartheid since the issue was one of the most important principles in foundation of the movement.
He referred to the history of NAM saying, "You know the Non Aligned Movement was created in 1961 in Belgrade. During that time almost all African countries were under the colonial rule therefore the Non Aligned Movement has been partly passed a part of the national liberation struggles in many African countries."
"We in Southern Africa benefited tremendously from the support and solidarity of the Non Aligned Movement collectively and individually." He said and added, "None of the members of the Non Aligned Movement, individually, rendered the political and indeed military support to the liberation struggle."
He also stressed, "Indeed the liberation of our countries in Southern Africa was very much in part the contribution of the Non Aligned Movement."
This African official was also demanded if any special issue of Africa he expected the next summit to address to which he did not refer to one particular issue but said, "It is not really the question which issues are African and which issues are not. We as members of the Non Aligned Movement wanted to work very much for south-south cooperation so that there is cooperation among European countries, that we all help each other develop to support each other politically, diplomatically and indeed economically; therefore, if we can have more trade and more economic cooperation among developing countries within the context of the Non Aligned Movement we will have good progress.