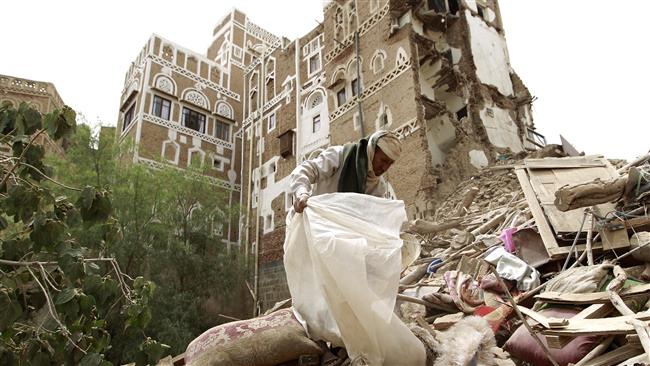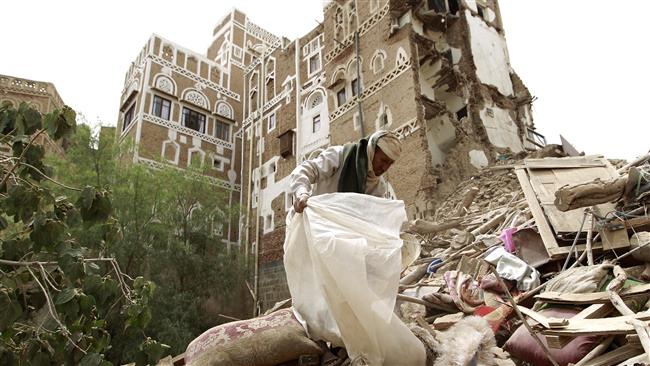 A Saudi airstrike targeting a wedding party in Yemen has killed at least seven people, including the bride, in the country's northwestern province of Sa'ada.
Saudi fighter jets bombarded the location of the marriage ceremony in the area of Jabel al-Haram in the district of Razeh in Sa'ada, al-Masirah TV reported.
Elsewhere in the province, eight people were killed in Saudi airstrikes on residential areas in the small town of Dammaj. All of the victims were women and children.
Saudi warplanes also pounded the areas of Beit Naem and al-Garzeh in the district of Hamdan in the province of Sana'a, killing at least two children and injuring six other people.
Saudi fighter jets also targeted the residential area of al-Miad in Sana'a several times. At least 69 people were reportedly killed and injured in the attacks.
The Yemeni Health Ministry announced earlier that Saudi Arabia has been using banned weapons during the military campaign against Yemen, which started on March 26.
Saudi fighter jets also bombarded the Yemeni city of Ta'izz, the capital of a southwestern Yemeni province with the same name, killing seven people, including women and children.
Saudi warplanes also launched airstrikes on a military base in the southwestern province of Dhamar.
In response to the deadly air raids, the Yemeni army, backed by popular committees, targeted the Saudi army bases along the border with Yemen, destroying the military vehicles positioned there.
The Yemenis also fired more than 40 rockets on a number of military sites, including, Radeef military base, in Saudi Arabia's southwestern Jizan border region.
Several Saudi soldiers have been killed and injured as a result of the retaliatory attacks. A tank belonging to the Royal Saudi Armed Forces was also destroyed in Yemen's retaliatory fire, setting a weapons depot ablaze.
Al-Hazm liberated
Meanwhile, al-Masirah television reported that Yemeni forces managed to cleanse al-Hazm, the capital of the northern province of al-Jawf, of al-Qaeda militants.
According to the report, the Yemeni army and popular committee forces have regained control of all military bases and governmental offices in al-Hazm.
Separately, Saudi fighter jets bombarded Hazm after it was recaptured by the Yemeni army.
The UN says at least 2,300 people have been killed and 7,330 injured due to the conflict in Yemen since March 19.