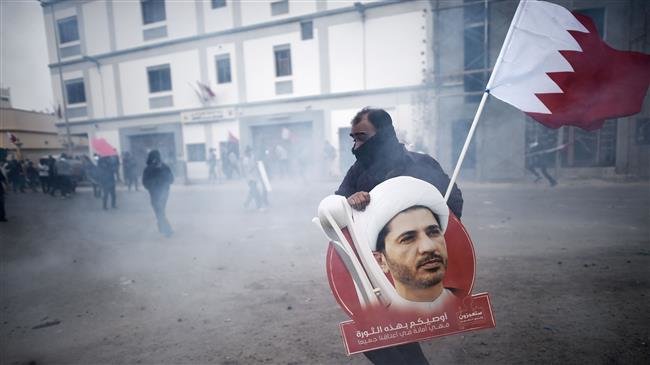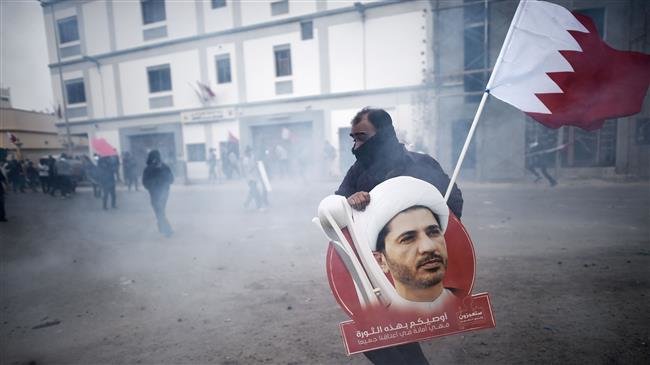 Zionist -puppet Bahraini regime has given jail terms, ranging from three to 10 years, to six more anti-regime activists a week after sentencing opposition leader Sheikh Ali Salman and two of his colleagues to life in prison.  
One of the convicts received a 10-year sentence, while two others were sentenced to five years each, and another to a three-year jail term, Bahrain's Lulu TV reported.
The criminal court which issued the sentences on Saturday convicted them of "receiving financial aid from terrorist groups."
Last Sunday, a Bahraini court sentenced three senior opposition members, including prominent Shia cleric Sheikh Ali Salman, to life imprisonment after overturning a previous acquittal.
They were charged with spying for Qatar in what Amnesty International called a "travesty of justice."
Salman is already serving a four-year prison term for inciting hatred and insulting the interior ministry, after his arrest in 2015.
He was the secretary general of Bahrain's largest opposition party, the al-Wefaq National Islamic Society (Waad). Courts in Bahrain, where the US Navy's Fifth Fleet is based, dissolved Waad last year, accusing it of helping to foster violence and terrorism.
Bahrain has barred members of dissolved opposition groups from running in parliamentary elections due to be held later this month.
The Al Khalifah regime has maintained a heavy-handed crackdown on protests since the tiny Persian Gulf island was hit by an anti-regime uprising in 2011.
Saudi Arabia and the United Arab Emirates have been helping Manama in the crackdown. So far scores of demonstrators have been killed and hundreds of others are in jails.
They have used numerous tactics, ranging from serious abuse to stripping dissidents of their citizenship, including the country's most prominent Shia cleric Ayatollah Sheikh Isa Qassim.