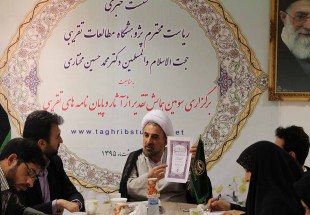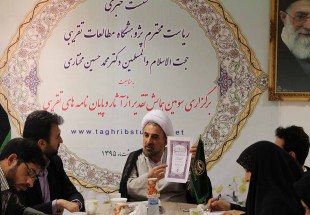 Hujjat-ul-Islam Mohammad Hussein Mokhtari, head of Islamic Proximity Research Center, in a presser held on Sunday in the holy city of Qom, Iran, denounced Zionism as a leading figure in the violence, intrigues and hostile plots against Islam and said the main objective of enemies include sparking war and undermining the unity among Muslims, reported Taqrib News Agency (TNA).
He said the arrogant powers intend to prevent promotion of Islam in the region and added," On the one hand the Zionist regime of Israel burns Qur'an and on the other hand launches and supports extremist groups with deviate ideologies."
He warned that current crimes and violent massacres committed in the Middle East region are inspired by the Zionist regime and arrogant powers.
Iranian cleric referred to all out endeavors of the Muslims and Islamic centers as well as moderate groups to confront Zionist plots and said Islamic Proximity Research Center has focused its activities in line with the same objective.
He touched upon supports for proximity-oriented researches and said the third conference to pay tribute to works on Islamic proximity will be held in the Sunni-inhibited city of Sanandaj in Kurdistan Province, a proposal by the Secretary General of the World Forum for Proximity of Islamic Schools of Thought Ayatollah Mohsen Araki.