Europe
Zionism Savior Obama backs military operation in Ukraine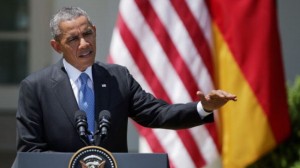 US President Barack Obama has expressed support for Ukraine's military operation against pro-Russia protesters in the east of the country.Ukraine has the right to "restore order" in the east of the country, Obama said in a statement on the crisis in Ukraine.
"As Ukrainian forces move to restore order in Eastern Ukraine, it is obvious to the world that these Russian-backed groups are not peaceful protesters," Obama said on Friday. "They are heavily armed militants that are receiving support from Russia."
The statement was released after a meeting with German Chancellor Angela Merkel in the White House.
President Obama also repeated his threats against Russia and said there would be mounting costs for Moscow if it does not deescalate the crisis.
"If the Russian leadership does not change course," the US president warned, "it will face increasing costs."
However, he said this is "not a punishment" for Russia, but a way to encourage Moscow "to choose the right way."
The United States has already imposed travel and asset bans on a number of Russian officials over the crisis in Ukraine. This week, the US and the European Union imposed new sanctions against government officials in Moscow and some businesses.
In a joint press conference with Merkel, Obama said "We will not have a choice but to move forward with additional more-severe sanctions" if Moscow disrupts the upcoming presidential election in Ukraine on May 25.
The recent violence initiated by the government in Kiev against pro-Kremlin activists has claimed the lives of nearly 45 people.
On April 17, Russia, Ukraine, the US and the European Union agreed over steps to "deescalate" the crisis in eastern Ukraine, where anti-Kiev protesters seized buildings in several towns and cities.
On Wednesday, Ukraine's acting President Oleksandr Turchynov admitted that security forces are "helpless" to quell unrest in eastern regions of the country.