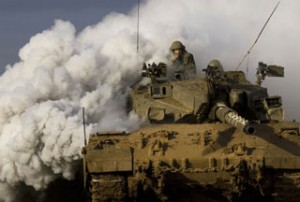 Three Palestinians were injured when Zionist helicopters fired on a group of resistance members near the central Gaza base Kissufim following reports of clashes in the area early Saturday morning.
Security sources said armored Zionist vehicles at Kissufim had fired shells at areas in the south-central border region, Witnesses said the fighters were less than 100 meters away from the military post.
Muawiya Hassanein, head of emergency and ambulance services in Gaza, confirmed the injury of three men being treated at the An-Nasser Hospital in Khan Younis.
On Thursday, Zionist forces entered deep into the Gaza Strip during day-long clashes that saw a soldier injured, the military confirmed. Four tanks and a bulldozer penetrated 900 meters in the Al-Maghazi Refugee Camp area and demolished two homes.