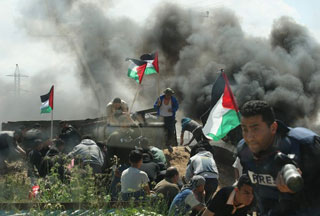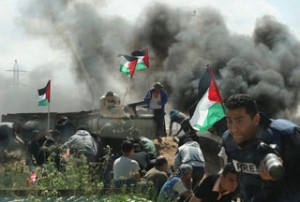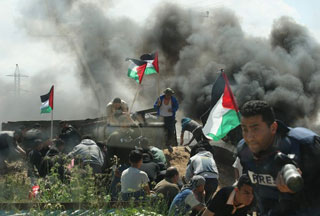 Zionist Israeli soldiers have shot dead a Palestinian teenager in the southern Gaza Strip town of Rafah, leaving up to a dozen more injured.
The boy, identified as Mohammed al-Faramawi, 15, was targeted on Tuesday close to Gaza's defunct airport, AFP quoted Muawiya Hassanein, the head of Gaza emergency services, as saying.
The incident took place when Israeli troops opened fire on hundreds of protesters who marched to the Rafah border at "Land Day" demonstrations, east of the town of Khan Yunis.
The annual "Land Day" ceremony marks Israel's killing of six demonstrators during a 1976 protest against Tel Aviv's takeover of Palestinian land.
On the anniversary of the killings, protesters clashed with Israeli forces and hurled stones at the soldiers stationed along the border, who responded with live fire.
Among the 11 people wounded in the shooting were a number of children, including nine-year-old Raid Abu Namus, who was in serious condition.
Two Palestinians were also killed last weekend in Gaza in the heaviest clashes since the end of the 22-day Gaza war.