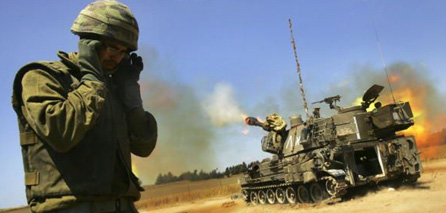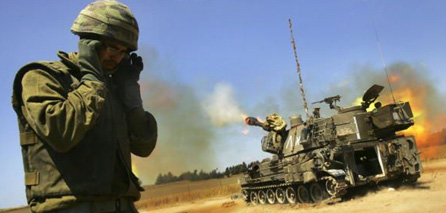 Zionist occupation artillery stationed eastern of Gaza Strip launched a number of shells at Palestinian citizens' lands in north Gaza Strip on Thursday at dawn.
Al Qassam correspondent at north Gaza Strip reported that the Zionist artillery has bombed with dozens of shells an empty agricultural lands hysterically.
He pointed out that the Zionist shelling caused a state of fear and panic among citizens, especially women children and elders in north and east of Gaza city.
Medical sources reported no injuries or casualties among citizens in the targeted areas east and north of Gaza Strip.
Eastern borders of Gaza witness continued Zionist invasions and heavy gunfire, in addition to intense flight of Zionist predators and military helicopter in Gaza sky.