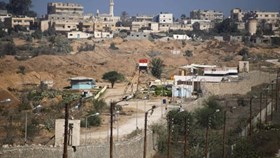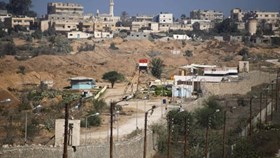 The Egyptian army on Tuesday evening demanded the residents of the northern neighborhoods in the Egyptian border city of Rafah to evacuate their areas in order to demolish their homes and establish a 500-meter buffer zone along the borderline with the Gaza Strip.
The Egyptian army, which started recently a widespread military campaign in Sinai following the killing and injury of many of its soldiers, said that the buffer zone, which will include water-filled trenches and an iron wall to thwart tunnel diggers, will be 500 meters wide and extend along the 13-kilometer border.
The Egyptian step would lead to the displacement of Egyptian families in this restive area in the northeastern corner of the Sinai Peninsula.
Egyptian security and military officials have accused Hamas of meddling in their country's affairs and supporting Sinai fighters to attack the army, but such claims were categorically denied by the Movement.
Senior Hamas official Mousa Abu Marzouk reiterated in recent press remarks his Movement's keenness on Egypt's security and stability.
"The only side affected by the security situation and events in the Sinai Peninsula is the Palestinians in the Gaza Strip, so no Palestinian has an interest in targeting the Egyptian army soldiers," he stated.
The Palestinian ministry of interior and national security, in its turn, affirmed that the southern Gaza border with Egypt is always under its control and subject to strict security measures, and denied any Palestinian involvement in Egypt's internal events.
In this regard, different political analysts expressed their beliefs in televised remarks that If Egypt created its buffer zone and secured its border with Gaza, the security problems in Sinai would continue to take place because the dangers threatening Egypt's security are internal and have nothing to do with the impoverished Palestinian Strip.