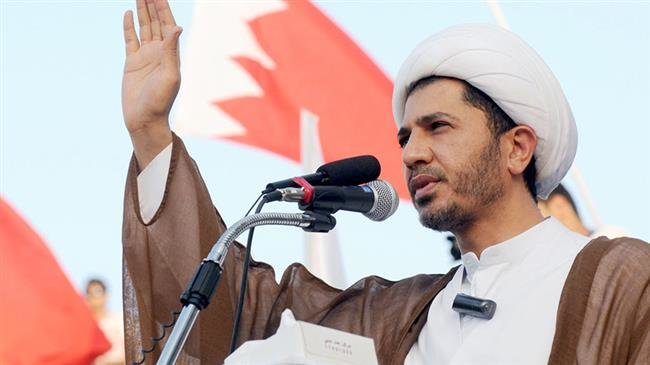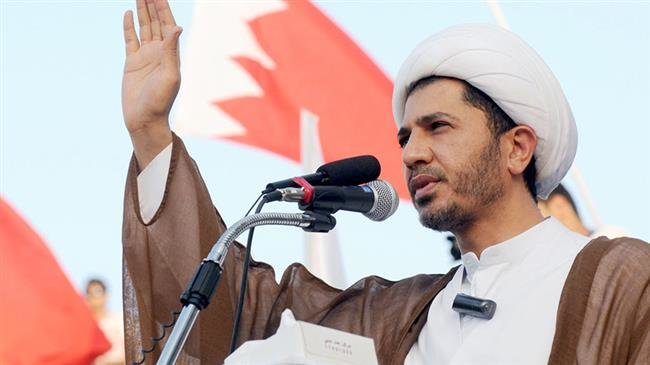 An appellate court in Bahrain has sentenced prominent Bahraini Shia cleric and opposition leader, Sheikh Ali Salman, to life in prison as the ruling Al Khalifah dynasty continues with its heavy-handed clampdown on political dissidents and pro-democracy campaigners in the tiny Persian Gulf kingdom. 
On Sunday, the court overturned the acquittal of the 52-year-old secretary general of the dissolved al-Wefaq National Islamic Society and two of his colleagues, Hassan Sultan and Ali al-Aswad, and levied charges of collaborating with Qatar "with the purpose of overthrowing the regime" against them.
The court went on to say that the trio had transferred confidential information to Qatar and received financial support in return. Sultan and Aswad were tried in absentia.
On June 21, the high criminal court in Bahrain had acquitted Sheikh Salman and his two aides of the spying charges.
A Bahraini court acquits Bahraini opposition leader Sheikh Ali Salman of allegations of espionage for Qatar.
Reacting to the Bahraini court's verdict, Amnesty International criticized Sunday's ruling against the three senior opposition figures.
"This verdict is a travesty of justice that demonstrates the Bahraini authorities' relentless and unlawful efforts to silence any form of dissent," Heba Morayef, Amnesty's Middle East and North Africa director, said.

She added, "Sheikh Ali Salman is a prisoner of conscience, who is being held solely for peacefully exercising his right to freedom of expression."
Aswad, who has lived in London since 2011, has told Reuters that the public prosecutor used secret witnesses and a video from the state-run Bahraini television network to trump up the charges. Experts have described the footage as edited and incomplete.
Additionally, Wefaq stated that the Bahraini judiciary is a tool in the hands of the ruling Manama regime, and the recent life terms handed down to Sheikh Salman and his two colleagues reflect the magnitude of turmoil in the kingdom.
The opposition movement stressed that the verdict against Sheikh Salman will only build up public strength, patience, pride and perseverance, and will validate their belief that Bahrain will be a better place without dictatorship, tyranny, injustice and plunder.
"The Bahraini regime is experiencing a real crisis with its people, and the deepening crisis has forced the regime to resort to reckless and insane measures in a bid to get out of its isolation. That is why it is taking political prisoners as hostages. Today, Bahrain ranks first in the Middle East as regards the number of political prisoners," Wefaq pointed out in a statement.
The statement concluded that the Bahraini people are now more aware of the need for change, and that the regime's policy of deception is no more effective.
On November 1, 2017, opposition leader Sheikh Salman and his two assistants were charged with "spying on behalf of a foreign country… with the aim of carrying out subversive acts against Bahrain and harming its national interests."
Sheikh Salman was also charged with "revealing defense secrets to a foreign country and disseminating information that would harm Bahrain's status and reputation."
The senior Bahraini Shia cleric has been in jail on a nine-year prison sentence since late 2014 for what the Manama regime has called "insulting" government officials, "inciting" unrest through his speeches targeting the authorities during the 2011 uprising, attempting to overthrow the regime and collaborating with foreign powers.
Sheikh Salman denies all the charges, saying he has merely been seeking reforms in the country through peaceful means.
Amnesty International and other human rights groups have already censured his arrest and called for his release.
Thousands of anti-regime protesters have held demonstrations in Bahrain on an almost daily basis ever since a popular uprising began in the country in mid-February 2011.
Bahrain's Fourth High Criminal Court has sentenced 13 political dissidents to life in prison.
They are demanding that the Al Khalifah regime relinquish power and allow a just system representing all Bahrainis to be established.
Manama has gone to great lengths to clamp down on any sign of dissent. On March 14, 2011, troops from Saudi Arabia and the United Arab Emirates were deployed to assist Bahrain in its crackdown.
Scores of people have lost their lives and hundreds of others sustained injuries or got arrested as a result of the Al Khalifah regime's crackdown.
On March 5, 2017, Bahrain's parliament approved the trial of civilians at military tribunals in a measure blasted by human rights campaigners as being tantamount to imposition of an undeclared martial law countrywide.