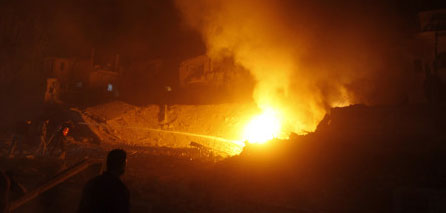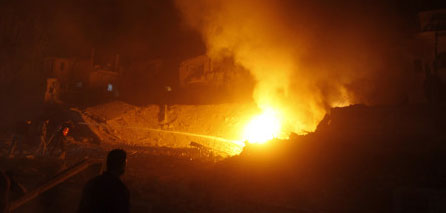 Israeli war jets carried out seven air strikes targeting different areas in the northern and the southern parts of the Gaza Strip.
Local sources in Khan Younis, in the southern part of the Gaza Strip, have reported that the army fired missiles targeting two chicken farms that belong to the Esleih family in the Al-Manara neighborhood in Khan Younis.
The chicken farms were completely destroyed, and around 4000 chicks and some sheep were killed. No human casualties have been reported.
The Israeli Air Force also fired a missile into an area, nearly 250 meters from the border fence, east of Khan Younis.
The attacked area is where three members of the Al-Qassam Brigades martyred and four Israeli soldiers were injured, during a recent Israeli invasion into the area.
Another Air Strike targeted a vacant chicken farm in the Az-Zanna area, in Bani Soheila, east of Khan Younis; damage was reported but no injuries.
Furthermore, at least one missile was fired into a training center used by Al-Quds Brigades, the armed wing of the Islamic Jihad, north of Beit Lahia in the northern part of the Gaza Strip.