Syria
Zionist Clinton in Turkey for talks on the worsening crisis in neighboring Syria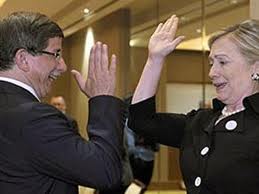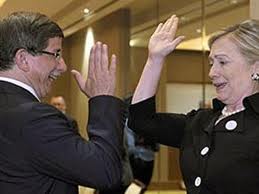 US Secretary of State Hillary Clinton has arrived in Turkey for talks on the worsening crisis in neighboring Syria. Clinton will meet Turkish leaders as well as Syrian opposition activists.
Clinton flew in from Benin after wrapping up a marathon 11-day, nine-nation Africa tour.
The secretary of state will meet President Abdullah Gul, Prime Minister Recep Tayyip Erdogan and Foreign Minister Ahmet Davutoglu, with a press conference by Clinton and Davutoglu.
"Clinton will have lengthy and in-depth conversation with Turkey's leaders to discuss a three-pronw we judge the effectiveness of what we are doing in terms of supporting the opposition," the official said, adding that "pressure and isolation of the regime was part of the strategy."
"So after that… we made clear that we were shifting from New York to a focus on supporting the opposition in its efforts to hasten the day that al-Assad falls and to begin in earnest planning for the day after al-Assad falls," the State Department official claimed.
According to US officials, Clinton is expected to discuss with Turkey's leaders ways to effectively enforcing sanctions against Damascus.
In Istanbul, Clinton is expected to announce an additional $5.5 million in aid for Syrian rebels and refugees.
"The third area is transition planning and day after planning," the official said.
"The Secretary was very clear that we don't want to put a date on al-Assad's departure, because we can't," he admitted.
The State Department official went on to say "There are political challenges in terms of organizing the state and protecting its institutions.
"There are economic challenges, both in terms of short-term stabilization and in terms of rebuilding a deteriorating Syrian economy," he said and noted that "there are security challenges that may require international and multilateral assistance of various kinds."
Clinton's visit comes after Washington on Friday announced sanctions against Syrian state oil company Sytrol for trading with Iran.
Syria has been the scene of unrest since March 2011. Because the presence of armed groups who are supported, financed and armed by Washington, Tel Aviv, Ankara, London, Paris, Berlin and certain Arab regimes.
The US has not objected to its allies aiding rebel groups, and is rather facilitating the arms flow on the Turkey-Syria border, according to a Washington Post report in May.
The CIA's ability to operate inside Syria was hampered severely by the decision to close the US embassy in Damascus earlier this year, officials said.
The US administration is exploring ways to expand non-lethal support to Syrian opposition groups, officials told the Washington Post.