Human Rights
Middle East
Palestine
Zionist court extends detention of Palestinian woman amid pandemic
A zionist court has extended the detention of female Palestinian activist, Aya Khateeb, amid widening calls to secure the release of Palestinian prisoners from Israeli detention centers at a time of the new coronavirus pandemic.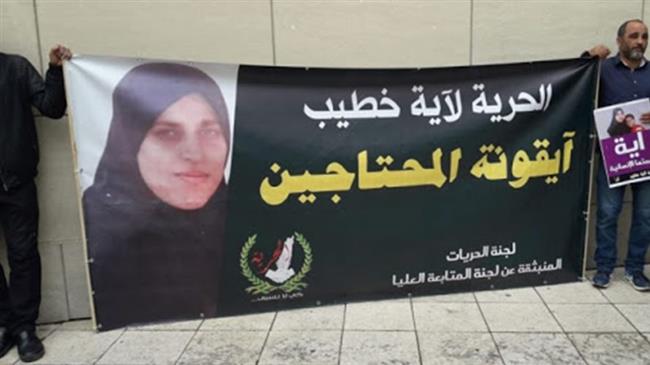 The court in Israel's port city of Haifa on Sunday rejected a request to place the Palestinian woman under house arrest and decided to extend her detention and postpone her trial until May 13, the Palestinian Information Center reported.
Khateeb, mother of two children, was detained by Israeli forces at her house in the Wadi Ara region of the occupied territories two weeks ago.
She would volunteer for collecting aid for the needy.
Israel's so-called Security Agency, better known as the Shin Bet, claimed that the Palestinian resistance movement Hamas recruited the young woman to carry out espionage activities and raise funds.
Her family members have appealed to human rights groups to intervene for her release as she is suffering harsh detention conditions. She has been denied family visits.
Separately on Saturday, Israel decided to delay the release of the Palestinian detainee Qassam al-Khatib, 30, despite the end of his 14-month prison term.
Qassam al-Khatib, a resident of Ramallah in the occupied West Bank, has been arrested off and on. The last time was over a year ago at an Israeli checkpoint near Ramallah.
His trial was delayed several times before an Israeli court sentenced him to 14 months in jail last year.
'Israel responsible for life of Palestinian inmate with coronavirus illness'
On Saturday, Fathi al-Qar'awi, a Palestinian lawmaker, held the Israeli authorities responsible for the life of detainee Mohammed Hasan, 21, who has been diagnosed with COVID-19 at the Maskoubiya detention center.
Qar'awi said in a press statement that Hasan's detention is a typical Israeli crime that is committed on a daily basis against the Palestinians.
Qar'awi called on rights organizations to pressure Israeli authorities to release Hasan and allow him essential treatment.
Hasan had been arbitrarily abducted from his family's house in the West Bank on April 22. Israeli forces stormed Hasan's residence in Ramallah and kidnapped him over his student activism at Birzeit University.
There have been growing calls from regional and international rights groups, including the Europal Forum, to push the Israeli regime into providing Palestinian prisoners with enough protection against the COVID-19 pandemic.
On April 6, the Secretary General of the Arab League appealed to the International Committee of the Red Cross (ICRC) to secure the release of Palestinian prisoners from the Israeli jails in the time of coronavirus.
Ahmed Abul Gheit, in a letter addressed to Director General of the ICRC Robert Mardini, expressed regret that Israeli authorities had released some settlers charged with criminal offenses but excluded Palestinian prisoners.
Hamas has warned of the dire consequences of keeping Palestinian prisoners in Israeli jails, slamming Tel Aviv's utter disregard for local and international calls to release them to protect their lives.
Many Palestinians are kept in Israeli custody without trial or charge under the so-called Israeli policy of administrative detention.