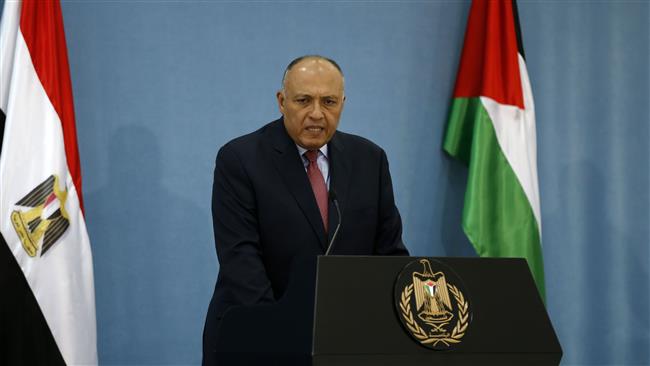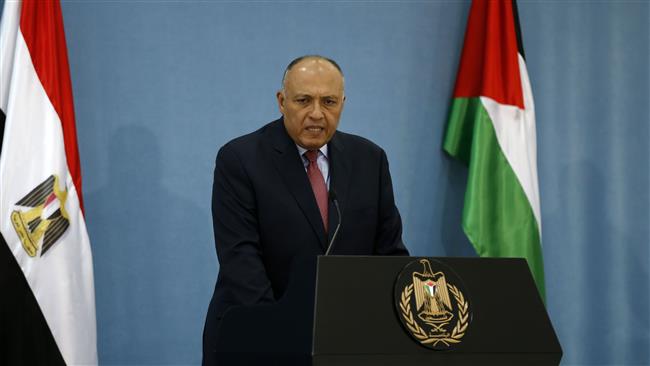 Egypt's Foreign Minister Sameh Shoukry has left Cairo for Israel for a meeting with Israeli Prime Minister Benjamin Netanyahu.
The Egyptian Foreign Ministry said in a statement on Sunday that Shoukry will hold "lengthy talks" with Netanyahu later in the day to discuss a number of issues, including the resumption of the "peace" talks with the Palestinians.
The two will also discuss "laying the foundation and specifics of confidence-building between Palestinians and Israelis to create a supportive environment to resume direct negotiations between them with the aim of reaching a comprehensive and just solution," the statement said.
The last visit by an Egyptian foreign minister to Tel Aviv was in 2007.
Shoukry paid a visit to the West Bank city of Ramallah late last month and met with Palestinian President Mahmoud Abbas.
Egyptian President Abdel Fattah el-Sisi said in May that Israeli officials and the Palestinians should grasp what he termed a "real opportunity" for peace.
Last month, representatives from 28 Arab and Western countries, the Arab League, the European Union and the United Nations met in Paris to discuss ways to help advance the Palestinian-Israel talks.
Relations between Egypt and the Israeli regime have been growing since Sisi took power in the Arab country in 2014.
Egypt sent an ambassador to Tel Aviv in January. Hazem Khairat was the first residing Egyptian ambassador in Tel Aviv since former President Mohamed Morsi recalled Cairo's previous ambassador to Israel in November 2012. Morsi was ousted by Sisi in 2013.
The Israeli regime also opened its embassy in Cairo in September 2015 after a four-year closure.