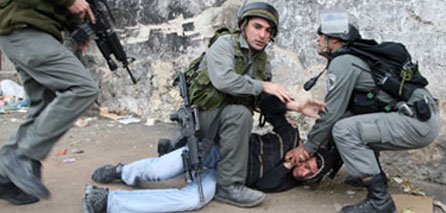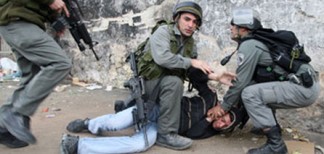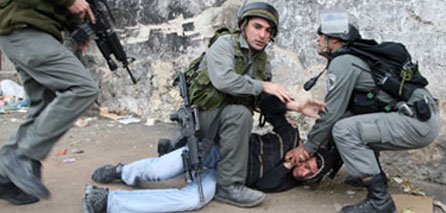 The Israeli occupation forces (IOF) arrested on Wednesday two young men from the cities of Bethlehem and al-Khalil in the southern West Bank.
Local sources reported that the occupation arrested a young man from the town of Obaidiya at the Container checkpoint, near Bethlehem, and another from the town of Harmalah at the Karama crossing.
In al-Khalil, the Israeli soldiers arrested a 19-year-old youth near Cordoba school in the Old City of al-Khalil after assaulting him.
The IOF on Tuesday evening attacked in the town of Edhna west of al-Khalil the citizens while they were leaving the mosque after prayer. The forces stopped and searched a number of young men and searched some houses in the town.
Locals confirmed that Israeli forces on Tuesday raided the Palestinian houses in Edhna, and arrested a citizen then took him to an unknown destination.
Another young man from Aroub refugee camp north of al-Khalil was arrested and taken to an unknown destination during a visit to his brother held in the occupation jail.
The IOF launched a campaign of mass arrests against citizens in the West Bank, and detained within 48 hours more than 15 young men.
Meanwhile, the occupation authorities freed the captive student Mohammed Majid Ra'i from Aroub camp after an arrest that lasted 48 hours and prevented him from sitting his high school graduation examination.