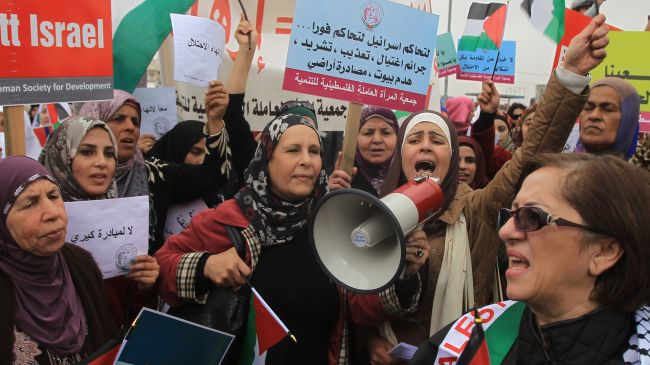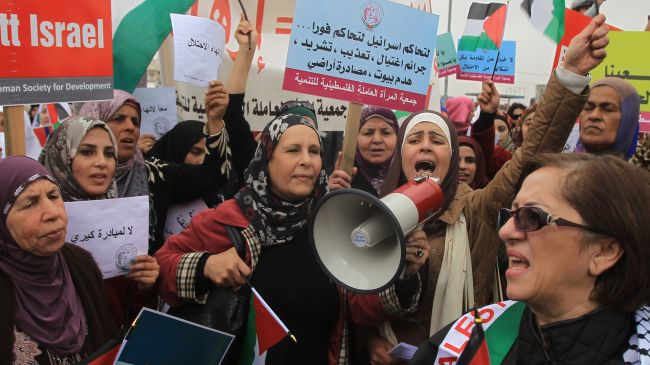 Israeli forces have attacked Palestinian protesters marking the International Women's Day in the occupied West Bank.
Israeli soldiers fired tear gas at protesters at the Qalandiya checkpoint in the central West Bank on Saturday.
The checkpoint separates Ramallah from al-Quds (Jerusalem), which has been the historical capital for Palestine before the occupation of the country by Israel.
The protesters tried to pass the checkpoint to assert their right to enter al-Quds.
"We are trying to revive the role of women in the popular struggle [against Israel], to maintain the Arab identity of al-Quds, and to boycott Israeli goods," said Intissar al-Wazir, head of the General Union of Palestinian Women.
Khalida Jarrar, member of the Palestinian Legislative Council, also said that the protest "confirms the participation of women in the struggle against the Israeli occupation."
The protesters also condemned Israeli occupation of their land and called on Tel Aviv to end its crippling blockade on the Gaza Strip.
Later in the day, some 1,000 protesters, mostly women, marched in the Gaza Strip toward the United Nations offices to demand an end to the Israeli blockade of the Strip.
Gaza has been blockaded since June 2007, a situation that has caused a decline in the standard of living, unprecedented levels of unemployment, and unrelenting poverty.
The Israeli regime denies about 1.7 million people in Gaza their basic rights, such as freedom of movement, jobs that pay proper wages, and adequate healthcare and education.
The humanitarian crisis in Gaza has escalated as the only power plant in the Palestinian territory has stopped working since November 1 last year due to severe fuel shortage.