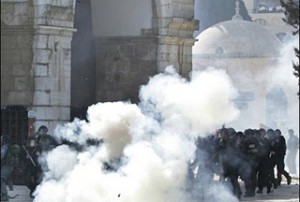 Zionist Israeli forces have stormed the courtyards of the Al-Aqsa Mosque in the occupied East Jerusalem Al-Quds and cordoned off its premises where dozens of Palestinian protesters had gathered.
Eyewitnesses said that Israeli policemen had encircled the Al-Aqsa Mosque since the early morning hours and clashes erupted in the holy complex after the Israeli forces raided the area to push out the Palestinians.
The protesters responded to the attack by throwing stones. Several people were injured and dozens more detained in the unrest.
Muslims consider the frequent Israeli attacks on the Al-Aqsa Mosque compound as part of a Judaization campaign that targets the holy city of Jerusalem Al-Quds and a provocation of Muslim feelings.
Israel occupied Al-Quds during a 1967 aggression and later annexed it. The status of the city is among the thorniest issues of the so-called peace process with the Palestinians, underscoring the reality that any Palestinian state should include the city as its capital.