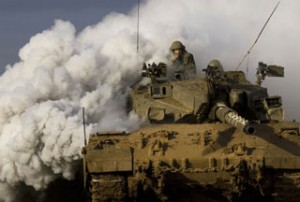 Palestinian sources reported on the morning of Tuesday 13-4-2010, that clashes erupted between Palestinian resistance men and Zionist Occupation Forces after a limited incursion east of Al Bureij camp in the central of Gaza Strip.
Witnesses said that the Zionist army fired several artillery shells and used helicopters to fire against Palestinian resistance men. The Palestinian medical sources confirmed that the Zionist entity is preventing the ambulances from reaching the area.
The Palestinian medical sources said four Palestinians were killed and an injury up to the moment to Al Aqsa Hospital.