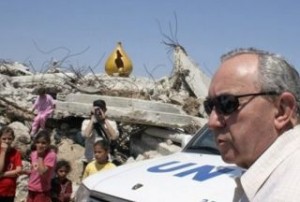 Zionists threatened to interfere with the family matters of the author of the UN report which found Israel responsible for war crimes in Gaza.
The report, composed by South African Judge Richard Goldstone, also charged the Israeli forces with crimes against humanity in the Gaza Strip.
He wrote the report as part of a United Nations investigative delegation which looked into the January 2008-December 2009 Israeli raids on the coastal sliver. The attacks killed more than 1,400 Gazans.
Reacting to the document, the South African Zionist Federation threatened to swarm the synagogue where Goldstone was to attend a religious Jewish celebration, marking his grandson's 13th birthday, known as bar mitzvah Baltimore Jewish Times reported.
"I was dismayed that the chief rabbi would so brazenly politicize the occasion of my 13-year-old grandson's bar mitzvah to engage in further personal attacks," Goldstone said, according to the International Middle East Media Center on Tuesday.
The ceremony, however, was finally held without any complications, the Times added.