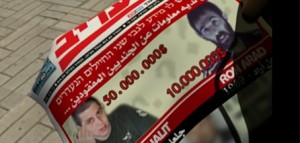 Israeli occupation government seemed to be angry with the Qassam made cartoon film of captive soldier Gilad Shalit.
Benjamin Netanyahu, the Prime Minister of Zionist enemy, described the directed video as an irresponsible and "despicable action" by Hamas.
This frivolous statement by Netanyahu shows the credibility of Hamas movement when dealing with the issue of the captive soldier Gilad Shalit, and at the same time it shows that Israeli arrogance still deactivating prisoner swap deal since the Egyptian-German mediation .
The shocked father Noam Shalit, said in an official statement that "Hamas would do better to concern itself with the true interests of the Palestinian prisoners and the citizens of Gaza, who have become hostages of their leaders, instead of putting on films and displays,"
This statement by the father Noam, describes the case of despair he is suffering from, while Israeli government gives him hypocritical promises to hide behind and keeps him walking the streets of Tel Aviv carrying a picture of his son!.
Israeli reaction towards animation video, pointed out that Israeli side is still incompetent to achieve prisoner swap deal with Hamas.
Many Israeli NGOs called upon Israeli media not to air an animated video produced by Hamas and intended as psychological warfare against Israelis, regarding captive soldier Gilad .
The cartoon film of Gilad broadcasted on many Israeli channels such as, Ch2, Ch1 and 10, and many Israeli websites broadcasted as well.
Hamas through this animation video sent a message to the Zionist society that as long your government deactivating swap deal, more suffering will happen and more soldiers will be captured.
Repeatedly , German mediator accused Israeli side of breaking prisoner swap deal by after it was about to happen months before. While Israeli government avoided responding to the proposal for a humanitarian deal, which was tabled by the German mediator, under Egyptian aegis.
Israeli occupation still refusing to achieve Palestinian demands and deactivating the exchange deal by practicing more arrogance instead of fulfilling the demands.
More than 10,000 Palestinian prisoners are under Israeli detention long time ago while the Palestinian resistance demands Israel to release 1000 prisoners, including those sentenced to high terms, and senior military and political leaders.