Middle East
zionist israeli Cmdr.: Hezbollah's Arsenal Won't Shame any Army in the World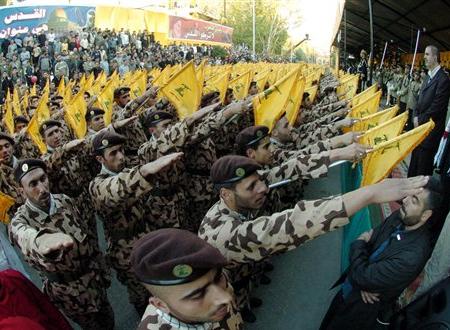 Israeli Occupation Forces Head of Operations Major General Yoav Har-Even said it's not possible to defeat Hezbollah in any future war without relying on maneuverability and quick incursion into the Lebanese territories, warning of the huge arsenal within Hezbollah which is similar to that of any army in the world.
HezbollahIn an annual military conference entitled "Combat Conference", Har-Even displayed the Operations Division's view to future wars and challenges, and the Zionist army's readiness to confront it.
He indicated that Hezbollah have experienced immense growth – including intensification of weapons and military capabilities. "Hezbollah, in particular, is now a semi-state run paramilitary organization."
"Today Hezbollah's arsenal would not shame any army in the world," he said, noting both 'their weapons' quantity and accuracy.'
He continued by saying that the Syrian crisis helped them in this regard. "They are conducting a battlefield trial in Syria that is not going too badly."
The Operations Head stated that the IOF is prepared for war and is ready to deal with the prospect of fighting "terrorist organizations" operating throughout urban landscapes.
"Enemy All Around US"
He claimed that the most significant change in the battlefield lies in the fact that 'Israel' is an "island of stability" and the fact that the countries bordering the entity suffer from low governance.
"All countries bordering Israel now are characterized by low governance," he said. He cited 'conflict countries' as "Lebanon, Syria, and Egypt in some ways, despite improvement, even though they now have the ability to exercise sovereignty and governance and enforce what they want including in the Sinai" and noted that all of them are "problematic."
"We live today in duality: on the one hand terrorists exercise power for the sake of having power, and operate the execution of an ideological agenda from small groups – but on the other, they have much more capabilities now and are growing much larger," he said.
The weakness of governance throughout the Middle East, he said, has also led to the development of 'global jihad organizations' which are based in the region, which present the IOF with the challenge of rooting out organizations that have a "lower profile."
"The enemy is all around us," the Operations Head stated. "They have realized that they could not achieve what it wants via the forms that have characterized it in recent years so they changed strategy – conquering land, to take warfare right to the home front, to establish a greater rear."
Har-Even called the change an "investment in conflict" that ultimately escalates the power and quality of a 'terrorist organization's arsenal'. As a result, he said, 'terror organizations' have put warfare at the home front – and established resource reserves far away from actual fighting.