Palestine
Zionist Israeli court suspends Palestinian journalist detention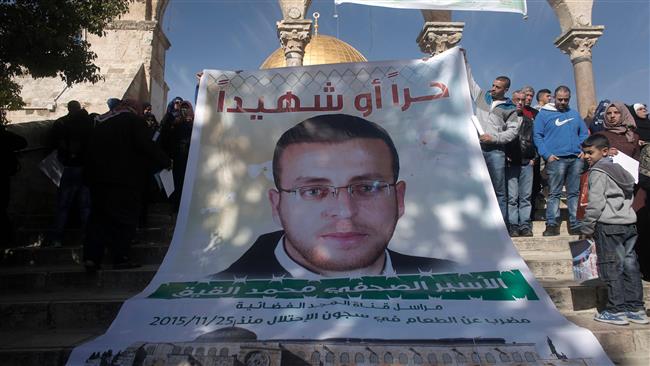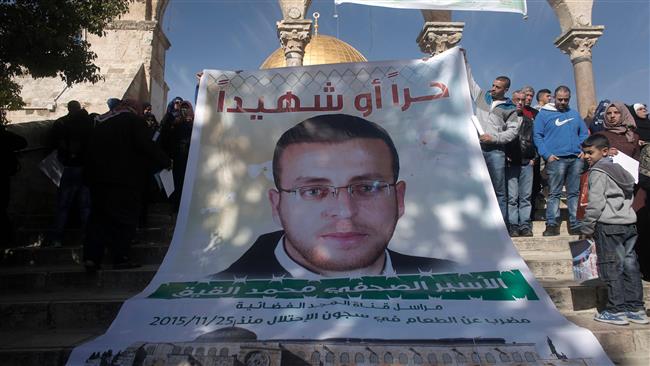 The Israeli regime has suspended the detention without trial of Palestinian journalist Mohammed al-Qiq, who has been refusing food for over two months over his imprisonment.
The decision was made by an Israeli court on Thursday, but the 33-year-old that has been on hunger strike for 72 days cannot leave hospital without permission.
The court cited his poor health as the reason for the suspension of his detention.
Qiq's lawyer, Jawad Boulus, said in reaction to the order that his client had earlier vowed to refuse any order that fails to ensure his freedom, adding, "I'm going to visit him now to know his decision."
The journalist, a father of two and a correspondent for Saudi Arabia's Almajd TV network, was arrested last November at his home in the occupied West Bank city of Ramallah.
Qiq has been refusing food since November 25, 2015, to protest his detention without trial or charge. He is also protesting against "torture and ill treatment that he was subjected to during interrogation," according to Addameer, a Palestinian rights organization.
Israel's Supreme Court previously refused to set him free.
In 2008, the Tel Aviv regime sentenced Qiq to 16 months in prison on charges related to his activities on the student council at the West Bank's Birzeit University.
Qiq was also jailed by Israel for a month in 2003 and then for 13 months in 2004.
The journalist is now being held under Israel's controversial administrative detention.
The figures provided by rights group Palestinian Prisoners' Society (PPS) shows that more than 7,000 Palestinian prisoners are currently held in some 17 Israeli jails, dozens of whom are serving multiple life sentences.
Over 500 detainees are under administrative detention, which is a sort of imprisonment without trial or charge that allows the Tel Aviv regime to incarcerate Palestinians for up to six months. The detention order can be renewed for indefinite periods.