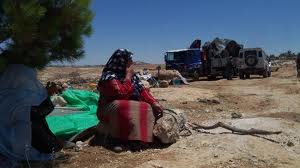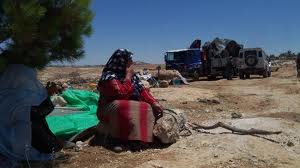 Israeli forces have attacked a Palestinian village north of the Jordan Valley for the fourth time since September, leaving some 100 residents without shelter, Press TV reports.
Israeli bulldozers backed by military jeeps entered the village of Makhool in the early hours of Thursday morning and evacuated the residents before destroying the village.
The Israeli soldiers further seized two tents and confiscated all materials that had been provided to them by European Humanitarian aid agencies.
"The army attacked us while we were sleeping and forced us to leave our tents before they destroyed everything. When they finished, they collected all the plastic and burned them before confiscating the iron structures," said a village resident.
"Every time we build anything, a tent or barracks, they demolish them. Even the presence of diplomats makes no difference," he added.
Following the demolition, foreign diplomats visited the area and donated tents and humanitarian aid, but the Israeli army forcibly removed them from the area. French diplomat Marion Fesneau-Castaing was dragged out of an aid truck by an Israeli soldier, who later confiscated the vehicle.
The attack on the foreign diplomats prompted European Union's foreign policy chief Catherine Ashton to demand an explanation from Israeli authorities. Tel Aviv responded by blaming Palestinians, stating it was a closed military zone and the residents had no permission to live there.
The Israeli army had previously destroyed the entire village on September 16, leaving 10 families and 16 children homeless.
The villagers say they have been left homeless for the fourth time and that Israel has violently prevented national and international organizations from intervening and helping them to rebuild their homes.
"From September 16th, this place has been attacked continuously and only God knows the real situation," said another resident of Makhool.
"We'll stay on this land until our death and we will not give up," he noted.
Makhool is situated in area C of the West Bank which remains under full Israeli military control.
Demolitions are commonplace in the Jordan Valley as Tel Aviv's policy of settlement expansion is escalating in the area.
Residents have called upon international bodies to pressurize Israel into halting these arbitrary demolitions, saying the regime is attempting to Judaize the area.