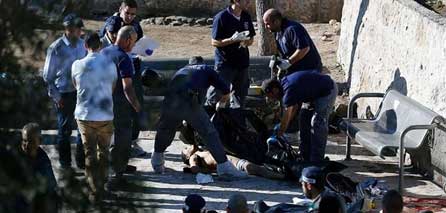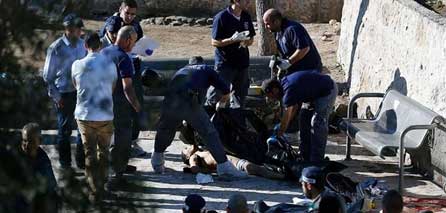 The Israeli Occupation Forces (IOF) shot and killed Wednesday afternoon three Palestinians in occupied Jerusalem for an alleged attack on police officers.
The shooting took place on Wednesday at the Damascus Gate, which is one of the entrances to the Old City in the occupied city of Jerusalem.
Israeli police claimed that the Palestinians were shot after carrying out an attack with guns and knives against a number of police officers.
A state of tension and confusion prevailed in the area, which made the Israeli policemen open fire on each other by mistake.
Palestinian Health Ministry identified the three Palestinian victims as Ahmed Abu Rub, 21, Mohamed Kamil, 20, and Ahmed Ismail, 22, from Jenin to north of the West Bank.
Following the incident, Israeli forces closed all roads leading to the Old City and fired tear gas bombs at the bystanders, the PIC reporter said.
Some of the Palestinian bystanders and journalists were brutally attacked.
The alleged attack came few hours after more than 100 Israeli settlers and soldiers with their military uniform stormed al-Aqsa Mosque, the third holiest site in Islam, in total provocation to Muslim worshipers who are denied access into the holy site.
Israeli escalated and daily break-ins into al-Aqsa Mosque raised high tensions and bloody clashes over the past few months in occupied Palestine.