Middle East
Palestine
Zionist Israeli occupation forces seizes two farm tractors used to supply Bedouins with water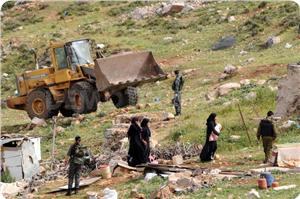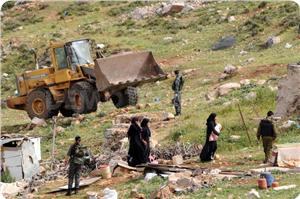 Zionist Israeli occupation forces (IOF) on Tuesday morning confiscated two farm tractors used to transport water supplies to Bedouin hamlets near Khirbet Al-Mita village in the northern Jordan Valley region.
Head of the municipal council of these Bedouin areas Aref Daraghmeh said the IOF took the tractor in order to punish the Bedouin communities for their steadfastness against Israel's attempt to evacuate them from their native land.
Daraghmeh stated that Zionist israeli troops stormed Khirbet Al-Mita village and seized two tractors less than 24 hours after they ordered the Bedouin shepherds to stop erecting tents and demolish their homes and structures in the area.
He affirmed that such act was aimed at forcing the Bedouin communities to leave the area.
For his part, Hasan Makhamra, a Bedouin native, said this Israeli campaign started two months ago during which the IOF confiscated dozens of water containers used for drinking supplies.
Makhamra asserted that the Bedouin families direly need these containers to supply themselves with water after Israel appropriated water springs, wells and resources.
He pointed out that Israel extends its control over 98 percent of water resources in the Jordan Valley including the Jordan river and the dead sea for the benefit of about 7,000 Jewish settlers living in settlement outposts near the Bedouin areas.
In a separate incident, the IOF closed two roads used by Palestinian farmers in the vicinity of Deir Estia village in Salfit city, thus raising the number of agricultural roads closed in the village to six.
This Israeli measure is aimed to enable the Jewish settlers to tighten their control over the area near Qana Valley.
Head of Deir Estia municipal council Nadmi Salman said an Israeli bulldozer escorted by troops closed the roads of Abu Naser and Qattan Al-Jamea with soil barriers and huge boulders.
He added that the closure of these two roads prevented the Palestinian farmers from reaching their agricultural lands.