Palestine
Middle East
Zionist 'israeli' raids not to affect Palestinian resolve to fight occupation: Hamas
The Palestinian resistance movement Hamas says Israel's overnight bombing of the besieged Gaza Strip is just a "showy" action and will not undermine the Palestinians' determination to fight for the their rights against the Israeli occupation.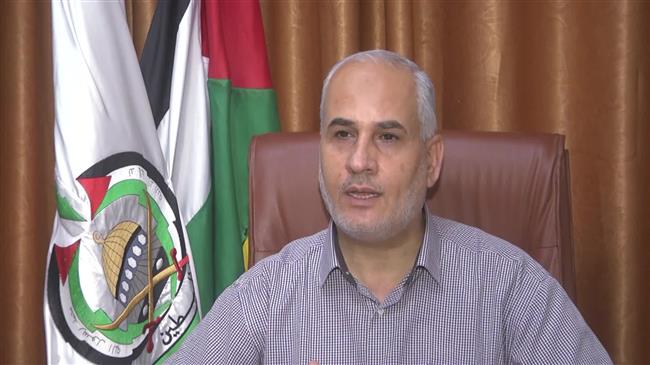 Fawzi Barhoum, spokesman for the Gaza-based resistance movement, made the remarks in a statement on Friday after the Israeli regime violated a ceasefire overnight and bombed a site allegedly belonging to Hamas in the coastal enclave.
There were no reports of casualties as a result of the Israeli aggression.
"This will not affect the insistence of our people and their valiant resistance to continue the struggle by all means to fight for their rights and end their suffering," Barhoum was quoted by the Arabic-language Palestinian Safa news agency as saying in the statement.
"The Zionist enemy's bombing of the site in Gaza is nothing but a showy reaction to appease its settlers and cover up its escalating crises," he added.
The Hamas spokesman also stressed that resistance groups would confront Tel Aviv's hostile policies and would force the regime to respect Palestinians' rights.
Tel Aviv claimed that the airstrikes, which hit areas south of Gaza City on Thursday night, were in response to Palestinians sending incendiary balloons toward the occupied territories.
The English-language Times of Israel newspaper claimed that the offensive marked "a shift" in the regime's new Prime Minister Naftali Bennett's policy.
The Israeli daily said the attack had shown that the regime's new officials had even ramped up their violence against the coastal territory compared to the previous ruling coalition of premier Benjamin Netanyahu, "which did not always respond to arson balloon attacks with airstrikes."
Hamas has sternly warned the regime on many occasions against testing its firepower as the resistance movement's military prowess forced Israel to accept a ceasefire during the latest conflict in Gaza in May.
The Israeli regime started a 12-day war against the already Tel Aviv-blockaded Gaza Strip on May 10. As a result of the brutal aggression, more than 250 Palestinians were killed in Gaza, including 66 children, with more than 1,900 people wounded.
Gaza's resistance groups, Hamas and the Islamic Jihad in particular, responded to the aggression on the same day that it started targeting the enclave.
Throughout the offensive, the groups fired more than 4,000 rockets towards Israel. The projectiles swept the entire expanse of the territories, many flying as far as Tel Aviv, the holy occupied city of al-Quds, and even the northern-lying cities of Haifa and Nazareth.
The Palestinian rockets also killed 12 in the occupied territories.
The Israeli regime finally gave in to an Egyptian-brokered ceasefire on May 21, incapable of stopping the resistance's rocket avalanche.